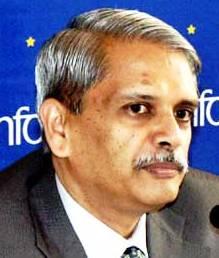 Infosys executive co-chairman and president of the Confederation of Indian Industries Kris Gopalakrishnan on Friday heaped praise on Gujarat Chief Minister Narendra Modi, describing him as 'a global leader'.

"Modi is a global leader who many wish to emulate.

"It is a privilege to share the dais with Modi, under whom the state has progressed in all aspects," said Gopalakrishnan at the launch of The Hindu Business Line's Ahmedabad edition on Friday.

"In CII, we say that if every state grows at Gujarat's pace, we can get double-digit growth in the country," he said.

He said Gujarat has progressed in all sectors -- be it agriculture, industry or any other field and also asked the state government to leverage information technology in the administration.

Replying to Gopalakrishnan, Modi said: "Unfortunately, I could not hear what you said, whether you praised Gujarat or not, but I will get to know in two days.

"Last week, when Infosys praised Gujarat, it got an Income-Tax notice of Rs 500 crore (Rs 5 billion)".

Last week, Infosys founder N R Narayana Murthy had praised the Gujarat government led by Chief Minister Narendra Modi.
Image: Kris Gopalakrishnan