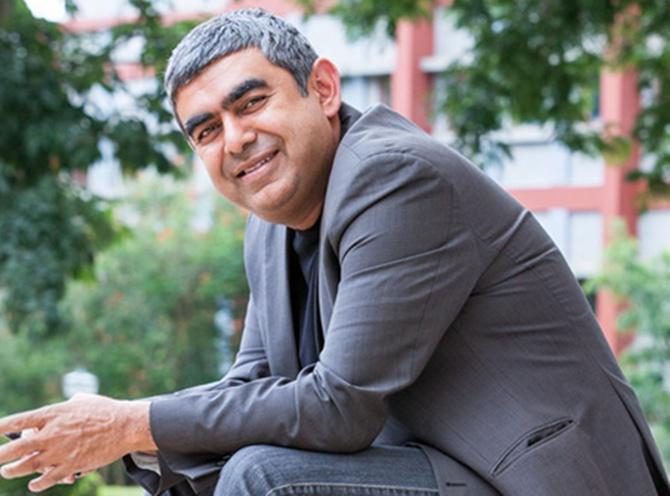 His raised package brings him closer to Cognizant chief executive Francisco D'souza
Infosys has been terming its 2020 Vision of touching $20 billion in revenues with an operating margin of 30 per cent by fiscal 2020-21 as an aspiration. Now, by extending the tenure of its chief executive & managing director Vishal Sikka that also came with a hefty jump in his annual compensation package, for the first time the board has put a stamp on the vision.
Appreciating the changes Sikka has brought in, including improvement in financial performance, it also gave enough indications that his performance would be judged based on the progress he makes towards achieving the targets.
On Wednesday, the board extended Sikka's term as CEO and MD till March 31, 2021, as compared with June 13, 2019, primarily to ensure that he continues to stay with the company until it realises its dream.
At the same time, the company's nomination and remuneration committees proposed to raise Sikka's compensation package by close to 60 per cent from $7.08 million at present to $11 million (around Rs 76 crore), effective April 1, 2016, when the new contract would be in force.
The compensation package includes $1 million in base salary, annual performance-based pay of $3 million, $2 million in restricted stock units and $5 million in performance-based equity and stock options to be granted upon the company achieving certain performance targets.
"Fiscal year performance targets will be set by the board annually to align with the company's stated goals for financial year 2020-2021 for revenue, margins and revenue per person," the company said in a regulatory filing.
"Fiscal year 2017 performance targets will be primarily measured against annual board-approved goals set to progress towards the company's stated goals for financial year 2020-2021."
This means, Sikka and the team would have to consistently drive the company to achieve these set targets with aggressive sales effectiveness and execution of the strategy.
"On the flip, there is a danger of a personality cult around Vishal and to centre the company too much on him. However, he has given employees back a sense of pride and belonging by positioning Infosys again as an innovator with a strategy focused on automation and AI (artificial intelligence).
"Yet to achieve its ambitious goals, Vishal has to reignite the sales engine as well," said Tom Reuner, managing director for IT outsourcing research at HfS.
"Suffice it to say, while he can lead from the front, he can't just sell by himself."
This makes Sikka not only one of the best paid CEOs in the Indian IT services industry, but also brings him closer to that of nearest rival Cognizant as well as players like Capgemini and Accenture.
In calendar 2014, the total package of Cognizant CEO Francisco D'souza stood at $11.33 million almost at the same level as it was in the previous year.
Even though the 2015 figures are not yet out, D'souza's total package for the year is expected to have gone up given the company's better-than-expected performance.
The remuneration paid to Accenture chairman and CEO Pierre Nanterme stood a little higher.
In calendar 2015, he earned $15.77 million in total compensation, including $1.01 million towards salary, $2.99 million as bonus and $11.69 million was awarded as stock, according to different reports.
"These changes are made in recognition of Dr Sikka's outstanding leadership and role in significantly advancing the company towards realising industry-leading growth in a changing competitive landscape, and to align his remuneration and terms as chief executive officer and managing director to market practice as well as to the company's announced objectives for annual revenue, profit and per person productivity by the financial year 2020-2021," Infosys said in a filing to the US market regulator, Securities and Exchange Commission.
Infosys is steadily trying to get back its lost ground under Sikka by trying to position itself as a next generation services company.
To achieve this, the company has set a two-pronged strategy which includes 'renewing' its existing services line and offerings and focus on 'new' areas.
The strategy seems to have started showing results, especially in the performance of the company in the past three quarters.
In FY17, the company, as stated earlier, is expected to grow ahead of the industry, which Nasscom has pegged at 12-14 per cent.
"Discussions about Vishal's new pay package threaten to mask the reasons why his term was extended.
"There is a sea change in the perceptions of stakeholders and the morale of employees.
"A spiral of negativity and notions of an executive merry-go-round appear to be in the distant past," said Reuner.
Image: Vishal Sikka. Photograph: Reuters