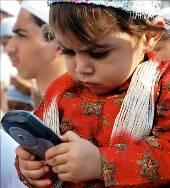 Imagine you're chatting with a friend using an application on your mobile phone, when a Shoppers Stop ad pops up -- not a regular, intrusive ad but one that seems to understand where you are and what you enjoy doing, beaming relevant content based on your profile.

It informs you about, say, the latest offers available on a new collection of garments at Shoppers Stop.

Would it engage you briefly?

The possibilities in this space are immense.

India's mobile phone subscriber base stands at about 900 million and is slated to continue growing for the next few years.

Here, entrepreneur Anil Mathews saw a market he could exploit, provided he had something substantial to offer.

Location-based advertising solutions or LBS, as it is commonly called, seemed a good option.

LBS pinpoints the location of mobile phone subscribers and provides them ads based on their location.

While there are no precise estimates of the LBS segment in India, it is believed it accounts for only one-two per cent of India's Rs 200-crore (Rs 2-billion) mobile advertising market.

However, mobile advertising is growing at 65 per cent a year, which means it would exceed Rs 320 crore (Rs 3.2 billion) next year, brightening the prospects of LBS, too.

Retail chains such as Cafe Coffee Day, which use LBS to drive traffic into their outlets, believe this is the way forward for mobile advertising in the country.

K Ramakrishnan, president (marketing), Cafe Coffee Day, says, "We were among the first to map our outlets on Four Square, a location-based social networking website for mobile phones. It works well because as a category, retail is local in nature.

"And, as a concept, LBS is about targeting the last-mile customer."

Mathews, 38, who founded and ran two Bengaluru-based start-ups, Netkode and Imere, between 1999 and 2008, believed he would be able to bring together his technical expertise and business acumen by stepping into this segment.

AdNear, which Mathews founded in 2009, uses proprietary software that helps track telecom subscribers without using a geo-positioning system and, subsequently, sends ads and other relevant communication to featurephone and smartphone users.

Commercial rollout of operations began only late last year (November-December); the four years since its launch were spent creating the software for the service.

Targeting ads at subscribers

"Basically, we drive around and collect cell-tower and Wi-Fi signals in different cities. With the help of a proprietary algorithm, we can quickly decode where a smartphone or featurephone user is located, how much time he or she ends up spending at one or multiple locations, how many times a day or a week he/she would be found at those locations, what he/she does there, etc.

"Using this information, we manage to create consumer profiles that we have put in different buckets such as, say, student, traveller, etc.

"This database can be leveraged by brands to micro-target consumers," Mathews says.

So far, AdNear has mapped cell-tower and Wi-Fi signals across 4,000 towns and cities, primarily in India.

Currently, it is mapping mobile phone footprints in markets such as Singapore, Indonesia, Malaysia and Australia, where it has expanded operations recently.

Entry of app developers

AdNear doesn't push ads to mobile phones directly but routes these through apps.

With the Telecom Regulatory Authority of India clamping on bulk SMSes and spam, experts say the approach of routing ads through apps is effective -- this doesn't break the law and it isn't too intrusive.

Mathews says using apps to carry ads has allowed his firm to optimise the number of ad impressions, a crucial metric tracked by marketers when advertising on mobile phones.

People, he says, love downloading and using apps, rather than viewing basic advertisements on handsets. "We are carrying out about five billion ad impressions a month," he says.

Advertisers using AdNear solutions include Mahindra & Mahindra, Titan, Shopper's Stop, Domino's, Pizza Hut, KFC, Toyota, Audi, Ford, Intel and Sony Electronics.

Identifying the right apps for the right ads is, of course, part of AdNear's targeting process.

Though Mathews doesn't specify the number of app developers he is working with, he claims these are large entities.

"In India, for instance, we work with Nimbuzz, a significant player here.

"Similarly, we have tied up with key players in other markets, too," he says.

Revenue

Mathews declines to indicate the revenue the company would record in its first year of operations.

He, however, says AdNear's target for the next two-three years is $100 million (about Rs 600 crore).

This estimate, he says, is based on the projected growth of his company, as well as that of the market in the next few years.

"We charge a premium for the targeting work we do and the more granular the data, the more we charge," he says.

This rate is three-five times more than that of rival operators such as TELiBrahma, according to industry sources.

Experts say the high premium is due to the fact that AdNear has to share about 60 per cent of its revenue with app developers, crucial to the success of this business.

If the app is a premium one and guarantees eyeballs, AdNear could end up sharing about 80 per cent of its revenue with the app developer concerned.

In the five years since it was launched, the total investment into AdNear by Mathews, as well as other investors, has been $7 million (Rs 44.1 crore).

Mathews says he is not considering a second round of funding anytime soon.

Initially, Mathews was backed by Rediff.com, which cashed out last year, following the induction of Sequoia Capital and Canaan Partners.

Challenges

Despite showing promising, the LBS concept has been criticised for violating the privacy of subscribers. Mahesh Murthy, founder of Pinstorm, a digital brand management firm, puts it bluntly: "The issue of privacy has dogged most LBS firms worldwide. I am not sure how ethical it is when you are tracking a mobile phone user and attempting to understand what he does, where, etc. This could be dangerous."

Mathews argues what is mapped by his firm is essentially public information.

"We take no operator assistance. So, there is no question of subscriber data being compromised," he says.

But critics argue as governments across the world enact stricter rules to safeguard privacy, the LBS business would continue to face challenges.

Companies in this segment, however, claim the service is opt-in -- a subscriber can choose whether to be a part of it.

Another key challenge in India is the entry of new companies in this segment, all vying for the same pie. Competition for AdNear is accounted for by firms such as TELiBrahma, a Bangalore-based LBS company founded in 2004, which uses Wi-Fi and bluetooth to track users.

"These users are then sent only those relevant to their location, primarily in the form of a notification, not through apps.

"If the user is near a Cafe Coffee Day, he would get ads pertaining to offers or promotions running there," says Suresh Narasimha, founder and chief executive, TELiBrahma.

"The ad is informative and engaging enough to make you visit the nearest store," he adds.

Like AdNear, TELiBrahma also works with key advertisers across sectors such as retail, fast-moving consumer goods and automobiles. Avinash Singh, senior media manager, Maruti Suzuki India, says, "We had used TELiBrahma for two and a half months during the Indian Premier League last year.

"We wanted to target youth hangouts across the country to communicate about our new K-series engine.

"We found the campaign was very effective. There was minimum spillage and we could target just the people we wanted to with LBS."

In the last few years, companies such as Google and Twitter have been eyeing the LBS segment, which means the competition here would only heat up further.

FACT BOX

Name: AdNear Founded: 2009 Area of business: Location-based advertising solutions on mobile phones USP: Ads are sent to smartphone and featurephone users via applications Turnover: Not available Target turnover: Rs 600 crore in three years Investment so far: Rs 44.1 crore (Rs 441 million)
Major clients: Mahindra & Mahindra, Titan, Shoppers Stop, Domino's, Pizza Hut, KFC, Toyota, Audi, Ford, Intel, Sony Electronics
EXPERT TAKE

Micro-targeting is an intense tool enabled by mobile technology and could turn around the way marketers communicate with audiences. Indubitably, a lot depends on how it would be used.

At a fundamental level, it enables marketers to deliver contextual communication.

With relevant messaging, brands can now drill further to reach audiences during a purchase.

From deals, discounts and new releases to a loyalty programme, this tool would help brands in effective digital engagement with consumers.

With 75 per cent of Indians online aged below 35 and 15 per cent of internet consumption being on mobile devices, micro-targeting would be important in mobile advertising.

Ad networks and tech companies such as AdNear are collecting user data through cellphone towers.

With the application of their proprietary algorithms and behavioural data, these create a platform for targeting, obviously with some deviation.

For the consumer, this could mean moments of delight, as there is spontaneity and instant gratification. Imagine walking into a coffee shop you frequent and receiving a message about a free coffee or drink for your patronage or walking into a mall and getting a message about all major events, deals and new launches there, based on your interests.

A strong differentiator indeed! However, a big bottleneck is the ability to offer scale.

Fast-moving consumer goods companies seeking mass audiences might find it difficult to drive reach, one of the most important parameters for them, through this technology.

Another pullback could be from the product side -- the ability to build an exhaustive platform covering enough touch points for brands to get excited.

This calls for heavy investment in time and resources.
Contextual messaging, a high conversion rate, efficient tracking and measurement, dynamic creative and device-agnostic technology would all help marketers make campaigns more efficient and fine-tune their marketing mix.
Ankur Rathi is a Mumbai-based digital media expert