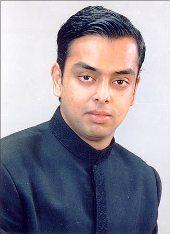 Newly appointed Minister of State for IT and Communications Milind Deora has been given the charge of the Telecom Department and his peer, Sachin Pilot, will take care of IT and Postal issues.
Last week, the 34-year old Deora, a two-time Congress MP from South Mumbai, had taken charge as Minister of State for IT and Communications.
Minister for IT and Communications Kapil Sibal has decided the responsibilities of both Ministers of State, official sources said.
While taking charge, Deora had said there is scope for improvement in the telecom sector, while emphasising on maximising telecom penetration in the country. He had said he would identify the areas which require improvement.
An accomplished guitarist, Deora had said that his first and foremost priority would be be to increase telephony services in rural areas at affordable prices, while ensuring revenue to the government at the same time.
Image: Milind Deora