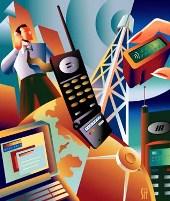 Ailing state-run telecom companies Bharat Sanchar Nigam Ltd and Mahanagar Telephone Nigam Ltd are yet to recover over Rs 5,000 crore (Rs 50 billion) from subscribers as dues for non-payment of bills.

For BSNL, which operates all over the country, barring Delhi and Mumbai, the amount is Rs 4,200-4,500 crore (Rs 42-45 billion).

According to a senior company official, BSNL is in the process of appointing recovery agents on a commission basis to bring back the money.

MTNL, which offers services in Delhi and Mumbai, has already appointed agents to recover about Rs 800 crore (Rs 8 billion), which has been pending since 2007.

An MTNL official said, "The dues arise because of an individual subscriber buying two SIM cards or there is a change in address."

BSNL's losses for 2010-11 stood at Rs 6,000 crore (Rs 60 billion), while MTNL incurred losses of about Rs 2,800 crore (Rs 28 billion).

At present, both the companies have employees to recover the dues from subscribers.

According to an MTNL official, the company now plans to outsource the work to private players to ensure the recovery more effectively.

When contacted, BSNL chairman
and managing director R K Upadhyay said, "We are taking necessary steps to keep the dues as low as possible.
"All the circle heads have been told to recover the money."
However, he did not divulge any figure for the outstanding amount.
In February, MTNL had floated a notice inviting applications for recovering the arreas.
Recovery agents or firms will be paid commission on the basis of the amount recovered.
The contract was for a year and might be extended to two years.
The selected bidders would have to recover a fixed minimum amount of Rs 1 lakh a month, the application had said.
BSNL and MTNL have been losing revenues and market share steadily amid an intense price war in the telecom industry.
MTNL has also been impacted by high payouts for pension and other retirement benefits, while a major chunk of BSNL's revenues goes towards paying the salary for staff.
The two PSUs are also in the process of introducing a voluntary retirement scheme to lay off surplus employees. BSNL has an employee base of about 280,000, while MTNL has 45,000.
Till the end of August, MTNL has a GSM subscriber base of about 5.3 million in Delhi and Mumbai. BSNL's GSM subscriber base in the same period stands at 59.19 million.