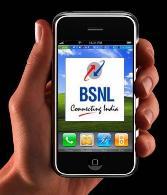 State-run BSNL's losses have more than tripled to about Rs 6,000 crore (Rs 60 billion) during 2010-11 mainly due to hefty outgo for employees' salary and expenses borne by the PSU for procuring 3G and BWA spectrum.
The company had registered a net loss of Rs 1,823 crore during 2009-10. According to the unaudited results of the company, the loss for 2010-11 is Rs 5,997 crore.

"The reason for widening of the losses is mainly on account of payment made to the Government to procure 3G and BWA licenses. The company had paid a total of Rs 18,500 crore for both," a senior BSNL official said.

This resulted in loss of other income of close to Rs 4,000 crore during the year gone by. BSNL had demanded refund of this money but denied by the Finance Ministry.

The total revenues of the company also declined to Rs 28,876 crore during the year, down nearly 10 per cent from Rs 32,072 crore in the previous financial year.

"More than 47 per cent of the total income of the company goes for the payment made to the BSNL's employees," the official said indicating the PSU may resort to voluntary retirement scheme to trip its workforce in line with recommendations made expert committee.

BSNL had reported the highest net profit of over Rs 10,000 crore in 2005-06 but since then its profits have been falling and in 2009-10
it reported net losses.
The company is preparing a voluntary retirement plan to employees as part of its efforts to revive the loss-making company.

The company has set an internal target of 99,700 employees - comprising Group A (1,483), Group B (6,262), Group C (76,655) and Group D (15,214) staffers.

The VRS has been under discussion since 2009 when a panel headed by Sam Pitroda, adviser to the Prime Minister on Public Information Infrastructure and Innovations, advocated that BSNL take the VRS route to prune its nearly 2.77 lakh strong workforce by a third.

BSNL's liability for the proposed VRS is pegged at a modest Rs 2,700 crore, while the telecom department will shoulder nearly Rs 18,000 crore.

The Department of Telecom is already examining the feasibility of merging government telecom companies ITI and MTNL with state-run BSNL, in line with the recommendations of the Board for Reconstruction of Public Sector Enterprises (BRPSE).

BSNL, which offers telecom services in all areas of the country, barring Delhi and Mumbai, had 95.14 million mobile subscribers as of July 31. it is making efforts to catch up with its private counterparts.