An Australian court on Thursday granted US tech giant Apple an injunction that restrains Korean electronics major Samsung from selling its Galaxy Tab 10.1 tablet device in Australia.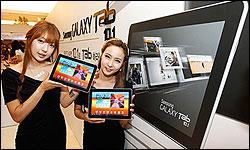 According to local media reports, Apple was expected to sue Samsung for patent infringement on the grounds that it "slavishly" copied its iPad tablet.

In a federal court, Justice Annabelle Bennett on Thursday said Apple had a prima facie case that Samsung infringed upon two of its patents relating to touch screens and the gestures that control them.

She said, "From April 15, when proceedings commenced in the US, Samsung proceeded with its eyes wide open. The balance of convenience was almost even... There were several factors that favoured Apple."

The hearing on whether Samsung's competing tablet should be banned from the Australian market revealed for the first time how serious a threat Apple regards Samsung.

Samsung previously agreed not to market, nor sell the Galaxy Tab 10.1 in Australia until Justice Bennett handed down her decision.

On October 4, Samsung told the court it would scrap the release of the Galaxy 10.1 if the injunction was granted, because missing the Christmas season would make
the new tablet "dead" by the time it reached market.
However, Bennett said she had to weigh this consideration against the loss and injury that could be caused to Apple should Samsung be allowed to sell the iPad rival.
The dispute will now proceed to a full hearing, which is unlikely to occur before next year.
Bennett told the parties she would give them the opportunity for an early hearing next month, the result of which would not prejudice the outcome of the full hearing when it came to trial.
In a statement, Samsung Electronics said it was disappointed with the ruling and would be seeking legal advice on its options.
"Samsung will continue its legal proceeding against Apple's claim in order to ensure our innovative products remain available to consumers," it said.
"This is a part of our ongoing legal proceeding against Apple's claim," it said.
Samsung is also confident it can prove Apple's violation of Samsung's wireless technology patents through a cross-claim filed on September 16, 2011, with the Federal Court of Australia, New South Wales.
"Our wireless standard patents are essential for mobile business. We will continue to legally assert our intellectual property rights against those who violate Samsung's patents and take a free ride on our technology," it said.