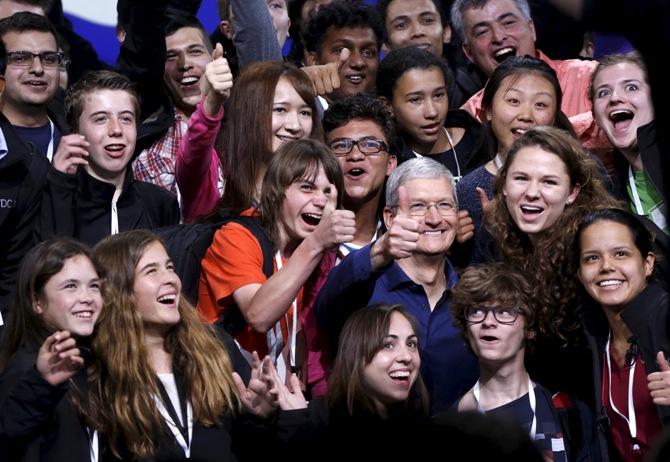 Apple, analysts say, could use the streaming service as good bait
In India's cost-sensitive smartphone market-dominated by phones that run on Google's Android operating system, Apple is making a big bet on its music streaming service, Apple Music, to get more users on to its platform.
Last week, it quietly launched Apple Music for Android users in the country, hoping customers would pay Rs 120 a month to stream ad-free music on their smartphones.
Nearly 92 per cent of the 250-million smartphones in India, third-largest market globally, run on Android.
Apple's iOS platform is being used by less than three per cent of users.
But sectoral analysts say Apple, which is aggressively trying to get more customers to buy its smartphones, watches and computers in India, could use the streaming service as good bait.
"Apple Music is a hook for Android users to experience and, eventually, attract to the Apple ecosystem," says Neil Shah, research director for Devices and Ecosystems at Counterpoint Research.
India is increasingly becoming an important market for the Cupertino-based firm, which previously had its eye only on China, among other Asian countries.
China is the largest market for Apple globally where it sells one out of four phones it makes.
In the quarter to September, China revenue for Apple stood at $13.2 billion.
In comparison, India is a small market.
In 2014-15, India revenue was Rs 6,472.89 crore (Rs 64.72 billion), up 44 per cent over Rs 4,500.35 crore (Rs 45 billion) during the previous year, according to a filing with the Registrar of Companies.
Apple sales in South Asia, of which India is the largest market, grew 35 per cent in the quarter to September, a third lower than the 93 per cent growth in new phone sales in the previous quarter.
In October, it launched iPhone 6s and 6s plus, but saw lukewarm response in the country, as customers deferred purchases due to higher prices on the fallout of a depreciating rupee.
The offtake also slowed due to lack of discounts during the festival season.
Apple has increased its distributors in India to five, who could cumulatively reach out to 10,000 retail outlets across the country, doubling its reach over the past year.
Nilesh Gupta, managing director, Vijay Sales, a chain of electronic stores based in the west and north of India, said, "In the past one month, we have sold only 1,000-1,500 units of the new iPhones.
"This is lower than past year, when the numbers were good. The price has been a bit of a deterrent.
"Generally, a new model tends to generate a lot of excitement in the marketplace.
"That hasn't happened this year with the new iPhones. But the older models are still being picked off the shelves," says Alok Gupta, chief executive, The Mobile Store, the largest mobile phone retailer in the country.
Apple shipped a little over 650,000 iPhones since October, of which 60 per cent were models of its new iPhone 6s & 6s Plus.
Analysts tracking the firm say shipment numbers are not necessarily reflective of sales.
But, post November shipment of older models has increased.
"However, eventually moving on to November through and post Diwali, we are seeing the ramp up and movement of older models iPhone 6 and iPhone 5s due to more affordable price points," says Shah.
"Apple is at the cusp of inflection point here in the Indian market and clever pricing strategies from installment schemes to competitive pricing could drive up sales with double-digit growth rates, even faster than what the market is witnessing," he said.
Image: Tim Cook poses with scholarship winners following his keynote address at the Worldwide Developers Conference in San Francisco, California June 8, 2015. Photograph: Robert Galbraith/Reuters