Microsoft's new operating system, Windows 8, has reached the release to manufacturing (RTM) stage. In simple words, the company has finalised the code along with the features going into the final version of Windows 8. Partners like phone or tablet PC vendors to original equipment manufacturers can now start using the platform to launch their products for the Windows 8 worldwide launch on October 26. But analysts believe domestic consumers and enterprises aren't exactly pining for Windows 8.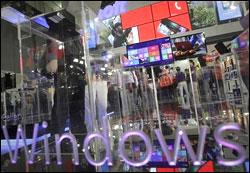 Personal computer (both notebook and desktop) sales are expected to grow eight per cent in 2012, according to CyberMedia Research data. And analysts argue it would be driven by Windows 7. Sumanta Mukherjee, lead analyst at CyberMedia Research (Infotech practice), says: "Windows 8 is designed for touch which means you need either a great touchscreen or a great touch pad. We don't anticipate the new OS (operating system) to be a compelling upgrade to Windows 7."
Microsoft's Windows 8, which has a touch-screen interface but also works with traditional mouse and keyboard, offers a unified ecosystem for all computing devices. Rival Apple's OS X platform for its Mac desktops and laptops and iOS for the iPhone and the iPad already share similar features.
"Windows 8 is more than a major upgrade to Windows—it's a technology shift. We don't see technology shifts too often; the only other one Microsoft's client OS has gone through was the move from DOS technology to Windows NT technology, which began in 1993 and took eight years, ending with the introduction of Windows XP in 2001," notes Steve Kleynhans, vice-president for client and mobile computing, Gartner.
In India, according to StatCounter data, more than 45 per cent users still have Windows XP PCs. "The first ones to migrate to Win 8 will be users with older versions of Windows OS and not the Win 7 users. Buyers are likely to wait and watch the feedback on the new OS before making the switch," reasons Vishal Tripathi, principal research analyst, Gartner.
The biggest problem with Windows 8 is that many companies are already struggling to introduce Microsoft's current OS, Windows 7, and some are still bemoaning the fact that Microsoft is phasing out an earlier OS and long-time business favourite Windows XP. "Enterprise with older OSes will be required to port their work applications on to a new OS and that is additional cost to the company. That's one of the major pain points in an enterprise' shift to Win 8," reasons Tripathi.
Launched in 2007, Windows Vista was not adopted by most organisations in part because it didn't add enough new value or cure pain that end users cared about. Windows XP (its predecessor) was considered to be a much stronger release that solved both IT operational pain and pain for end users while delivering better reliability and new features that they valued.
"If you don't have the hardware support for touch-enabled Windows 8, it is best to stay with Windows 7 until you can afford new hardware," says Mukherjee of CyberMedia Research.
But Microsoft partners like Asus believe Windows 8 should add growth to the PC market at least 10 per cent incrementally more in India. Alex Huang, country manager (system business group), ASUS (India), says: "We are preparing full range and line-up ready for Windows 8 launch."
The biggest opportunity for Windows 8, and where it shines the best, is on tablet PCs positioned against their iPad and Android counterparts. Microsoft is also set to launch its own tablet PC–the Surface and Surface Pro in October. "The information available to date suggests the prices of both will be too high to capture significant market share. But like Apple iPad, which has managed to pull a niche consumer segment despite a higher price tag, Windows tablets, too, can make a mark if Microsoft can get the Metro apps (Windows apps) in place," remarks Tripathi of Gartner.
Nitin Paranjape, one of  Microsoft's most-valued partners and Microsoft Office productivity evangelist, says: "Windows 8 is being tested and used by many consumers, corporates and IT (information technology) professionals for many months now. Many developers are actively writing useful apps for the new platform. Whatever the OS platform, be it Windows, iOS or Android, the key to success lies in the applications which deliver value."
The most commonly used product on Windows platform is Office and Paranjpe has been testing Office 2013 for over six months. He says: "Recently I demonstrated the product to over 700 users in NZ across corporates, public sector and media. The response has been overwhelming. Anyone who has used the preview version on a tablet will realize how smartly Microsoft has struck the tricky balance between the imprecision of touch input and plethora of features that Office has."
With Windows OS already powering more than one billion PCs across the globe, it continues to be the OS of choice for bulk of PCs shipped every year.
The software giant is hoping that existing Windows customers will opt for the Windows Upgrade Offer, available for those purchasing a new Windows 7 PC pre-installed with original versions of Windows 7 Home Basic, Home Premium, Professional or Ultimate.
With the Windows Upgrade Offer, Indian consumers can get a downloadable upgrade to Windows 8 Pro for an estimated retail price of Rs 699.
Photograph: Yi-ting Chung/Reuters