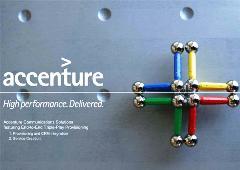 IT major Accenture plans to acquire residential and commercial mortgage processing service provider Zenta for an 'undisclosed amount'.

The acquisition would help Accenture to help lenders and real estate investment trusts streamline their operations, enhance customer experience and improve profitability, a company statement issued in Chennai said.

"This acquisition will help our clients address the challenges by combining Zenta's resources and expertise in mortgage processing, with Accenture's long track record helping financial institutions design and execute complex, large-scale
business transformations," Accenture Credit Services global managing director Terry Moore said.
According to the terms of the agreement, Accenture would launch 'Accenture Credit Services', a full-service consulting, technology and BPO operations in residential, mortgage and commercial real estate business.
Zenta's mortgage processing capabilities would be the key component for this service.
US-headquartered Zenta is one of the top three providers of mortgage processing services in the USA.
Following the acquisition, 3,700 employees of Zenta are expected to join Accenture, the statement added.