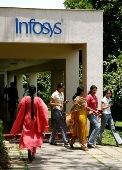 Six Indian companies, including Tata Communications and Infosys Technologies, have signed separate agreements in Washington with US-based companies to enhance cooperation, coinciding with the state visit of Prime Minister Manmohan Singh.
The Confederation of Indian Industry has also inked a pact with Santech Communication to serve the needs of industry for nanotechnology-based products.
While, data services provider Tata Communications has inked deal with Tyco Electronics to work together in providing additional connectivity and transmission, CII said.
Cisco has tied up with HCL Security Ltd to collaborate on delivering safety and security solutions. Cadila Pharmaceuticals and Novavax Inc joined hands to support production of key vaccines in India, including the recently developed H1N1 Pandemic Vaccine, Trivalent Seasonal Influenza Vaccine.
"Apollo Hospitals Enterprise Ltd and StemCyte Inc signed a memorandum of understanding designed to establish a cord blood bank facility at Apollo Hospitals Ahmedabad," CII, which organised the MoU signing ceremony, said.
Singh, the first foreign leader to be hosted by the 10-month-old Obama administration as the state guest, arrived in Washington on Sunday on a four-day visit.