Telecom tribunal TDSAT has rejected Reliance Communications' plea against the guidelines issued by the government for the proposed auction of spectrum.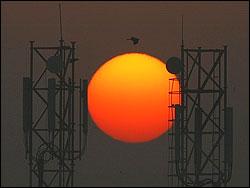 "The impugned guidelines ... In our opinion, being not final, cannot be held to be conclusive and binding on the parties hereto. We, therefore, are of the opinion that this petition is not maintainable at this stage ...," the TDSAT bench headed by its Chairman Justice S B Sinha said while dismissing RCom's petition.
Anil Ambani-led Reliance group firm RCom in its petition has submitted that as per the DoT's circular of July 3, the government would allot two blocks of 1.25 Mhz to existing GSM operators in the proposed auction, while the CDMA players can bid for one only block.
"This approach of the government is discriminatory and leads to non-level playing field among the similarly placed UAS licensees," RCom said in its petition, in which the firm had also made sectoral regulator TRAI a party.
However, the Telecom Disputes Settlement and Appellate Tribunal (TDSAT) has asked the government to expeditiously dispose of two representations made by RCom on the guidelines.
Moreover, the bench gave liberty to RCom to approach it in future if any cause of action arises in it.
The two member tribunal was of opinion that guidelines issued by the government for the proposed spectrum auction were not final and the government may "modify terms and conditions at any point of time and before the commencement of auction process".
Moreover, TDSAT observed that the Reliance group firm had already made representations before the government after issuance of the guidelines and its outcome is still pending.
Earlier, the TDSAT has also dismissed Vodafone's petition challenging the auction guidelines observing that they were not final. Vodafone had challenged the liberlisation of spectrum in the auction draft.
According to RCom, with only one block of 1.25 Mhz in 800 Mhz band the CDMA operators "will not be able to get even the license mandated 5Mhz of spectrum in various circles".
"While the existing GSM operators can get additional 2.5 Mhz spectrum through auction and go even beyond the license mandated quantity of 6.2 Mhz in some of the circles," RCom had said.