Apart from Modi, Jaggi Vasudev to address 2-day tax officers' conference
Illustration: Uttam Ghosh/Rediff.com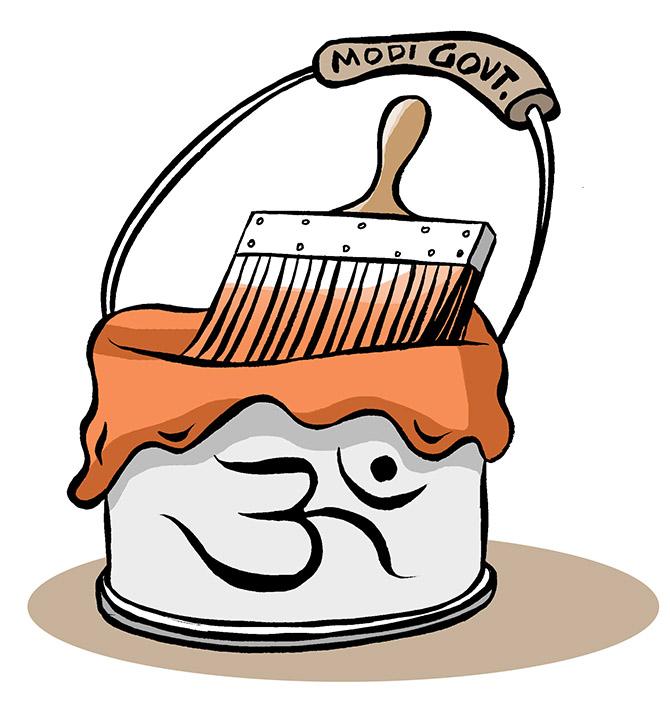 Tax officers might get a dose of mysticism to aid in their hunt for black money, at the second edition of a retreat for tax administrators, Rajasva Gyan Sangam, starting September 1.
Apart from Prime Minister Narendra Modi's address, the taxmen would also get to attend a session by Jaggi Vasudev, popularly known as Sadhguru.
Modi's address at the two-day conference, for the Central Board of Direct Taxes (CBDT) and the Central Board of Excise and Customs (CBEC), would be on widening the tax net, clamping down on black money using non-intrusive measures and ensuring smoother goods and services tax (GST) implementation.
"The two-day brainstorming will focus on taking forward the very successful year that saw the GST roll-out and stringent action against black money holders after demonetisation. The very popular Sadhguru will deliver a talk to encourage tax departments," said a government official.
Vasudev has previously spoken at the United Nations Millennium World Peace Summit and for several years at the World Economic Forum.
The author, also known for his love for motorbikes, is expected to encourage the tax department to promote a friendlier regime.
Last year, author Chetan Bhagat had addressed tax officers on Taxing with Love, where he asked officers to treat taxpayers as "customers."
Modi is expected to invite suggestions from officers on digitisation, voluntary tax compliance, increasing the tax base and upgrade of digital and physical infrastructure.
Litigation management, arrears recovery, information gathering and enforcement action would be the focus areas for the direct tax department.
The conference would host discussions on the proposed Project Insight, a scheme to make evasion tougher, in collaboration with L&T Infotech.
The project involves collating information with the I-T department from various sources and systemically profiling people using their PAN (permanent account number) details.
The event would also see discussions on the annual action plans of both the tax departments.
The focus of the direct tax department would be litigation management, while the CBEC would essentially focus on GST and easier Customs transfers.
About 400 officers of the rank of principal chief commissioner, chief commissioner and principal commissioner are expected to attend the event this year, which saw a historic indirect tax reform and Operation Clean Money, targeting black money, by the direct tax department.
The year has also seen a 25 per cent increase in e-returns, at 27.9 million, against 22.3 million returns filed last year.
The spurt has been attributed to demonetisation, announced on November 8.
The two-day brainstorming would have various sessions to devise ways to improve taxpayer services and sessions on strategies to tackle black money.
The income tax department has identified more than 10,000 cases of property purchases worth more than Rs 1 crore without taxes being paid.
The I-T department is probing benami transactions and the real estate deals after demonetisation.
An income declaration scheme announced last year had seen valid declarations worth Rs 55,000 crore (Rs 550 billion), resulting in a collection of Rs 24,000 crore (Rs 240 billion).
The domestic black money compliance scheme was in the form of a four-month window till September 30 that allowed assesses to declare unaccounted money and assets by paying a tax of 45 per cent.