Gearing up to launch full-service airline on domestic and international routes, salt-to-software conglomerate Tata group has incorporated its proposed aviation venture Tata SIA Airlines Ltd as a public limited company with the filing of all requisite documents and details with the Corporate Affairs Ministry.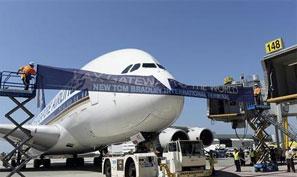 The new company is a joint venture between Tatas and Singapore Airlines, with Tata Sons Ltd holding he majority 51 per cent stake and the Singaporean aviation major having the remaining 49 per cent equity.
As per information available with the Corporate Affairs Ministry, the new company was incorporated on November 5 with a total paid up capital of Rs 500,000 and has been registered in New Delhi.
The incorporation documents have been signed by three directors -- Prasad Menon, Kersi Rustom Bhagat and Mukund Govind Rajan.
The incorporation follows approval from the Foreign Investment Promotion Board (FIPB) late last month for the proposed investment of $49 million by SIA in the joint venture, where Tatas are making initial investment of $51 million as per their shareholding structure.
Earlier, the JV got Corporate Affairs Ministry's approval to use the name 'Tata SIA Airlines Limited'.
The process of incorporating a new company for this joint venture started with registration of the name, followed by submission of various other documents, including the Article of Association, and details of the company's board of directors, share capital, business areas etc.
Tata SIA Airlines is among the first major companies to be incorporated under the new Companies Act, 2013.
The two partners are making an initial investment of $100 million to launch the airline, which may take off next year after getting all the clearances required.
This is the third attempt by Tatas and SIA to enter the Indian civil aviation sector.
Tatas have a long history of association with civil aviation in India.
JRD Tata had started Tata Airlines in 1932, which was later in 1946 renamed as Air India and was subsequently nationalised in 1953.
In February this year, Tatas also announced a partnership with Malaysia's AirAsia for a low-cost carrier in India, wherein Arun Bhatia's Telestra Tradeplace is third partner.
Tatas and Singapore Airlines have assured the government that control of their proposed venture would always remain in Indian hands, while seeking approval to offer full-service passenger services on both domestic and international routes.
The initial board of the new carrier will have three members, which would be later expanded to six members with six nominees of Tata group.
The JV would also provide air transport carriers for both passengers and freights as well as supporting services to air transport, like operation or airport flying facilities, radio beacons, flying control centres and radar stations.