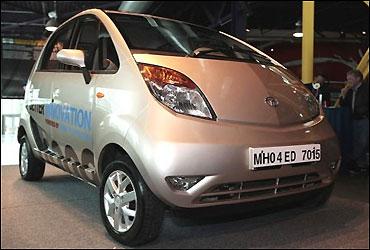 Cyrus Mistry cannot be held responsible for Nano's failure, a director of the firm said.
The Tata Motors board had grappled with the problem of reviving the loss-making Tata Nano, and had several discussions on the issue, said a director on the Tata Motors board.
The director also defended the track record of former Tata Sons chairman Cyrus Mistry and said he could not be blamed for the losses in the Nano project, which he had inherited.
He also added the Nano had lost between Rs 6,000 crore and Rs 7,000 crore since its launch, and the car did not make money from day one.
"The board was concerned over the Nano and we had discussed several options as it was losing money on every car and the inventory was only piling up," the director said asking not to be named. "After sinking in Rs 6,000-7,000 crore in the Nano till date, what is the result?"
"The entire board is the owner of the decisions and not Mistry alone. If Cyrus is removed for this reason then the entire board should be sacked," said he.
The Nano was launched in March 2009 but it failed to generate sales due to its "cheap" price tag and competition from better models produced by rivals such as Maruti. Tata Motors, however, was saved by the timely acquisition of Jaguar Land Rover (JLR) by Ratan Tata in 2008, which is now generating huge cash for the company.
The standalone Tata Motors, which houses the domestic passenger car and commercial vehicle business, made a profit of Rs 2,240 crore in 2009-10. It fell steadily and in 2014-15, there was a loss of Rs 4,739 crore.
In 2015-2016, it made a profit of Rs 234 crore, but its market value shot up as JLR kept doing well and the company reported a consolidated net profit of Rs 11,108 crore in FY16.
A Tata group spokesperson declined to comment on the issue. But in a statement to the stock exchanges on October 27, Tata Motors had said the company's business and product strategies, financial performance are reviewed and approved by the board periodically. "Product decisions like launches/stoppages will be announced as per industry practices, in the course of our long term strategy," Tata Motors said.
A day after his ouster, in a communication to the Tata Sons board of directors, Mistry had also warned about the challenging situation at Tata Motors, both on the commercial and passenger vehicles. Historically, Mistry said, Tata Motors had employed aggressive accounting to capitalise substantial proportion of the product development expenses, creating a future liability.
"Beyond this, the Nano product development concept calls for a car below Rs 1 lakh, but the costs were always above this. This product has consistently lost money, peaking at Rs 1,000 crore. As there is no line of sight to profitability for the Nano, any turnaround strategy for the company requires shutting it down," Mistry had said.
"Emotional reasons alone have kept us away from this crucial decision. Another challenge in shutting down Nano is that it would stop the supply of the Nano gliders to an entity that makes electric cars and in which Tata has a stake," Mistry said.
Before 2013, in order to shore up sales and market share, Tata Motors Finance, a subsidiary of Tata Motors, had extended credit with lax risk assessment. As a result, the company's bad loans mounted to being in excess of Rs 4,000 crore, Mistry said.