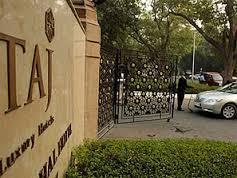 Indian Hotels Company's strategy for expanding abroad is back to the drawing board.
On Wednesday, the company that runs the Taj group of hotels, part of Tata Group, exited its management control contract with Morroco's JK Hotels for the Taj Palace at Marrakech in that country.
This comes a couple of months after the company sold its sole property in Australia, Blue Sydney, for about Rs 180 crore (Rs 1.8 billion).
And, less than a year earlier, it had called off a $1.2-billion bid for Bermuda-based Orient-Express Hotels.
"The divestment has been undertaken as part of the Taj group's strategy to focus on markets which are core to the group's operations," stated the company.
It was, it said, going to "create liquidity to fund the company's ongoing expansion in such markets".
It has identified China and the Asia-Pacific as core regions to grow.
The reported loss for 2013-14 was Rs 553 crore (Rs 5.53 billion), consolidated debt Rs 4,252 crore (Rs 42.52 billion).
It also has debt amounting to Rs 553 crore (Rs 5.53 billion) maturing in this financial year.
The company's high debt is also because of the acquisitions done in the past.
Construction of own hotels also became an expensive proposition because of rising land prices.
The company is now slowly shifting its business model to managed properties. It currently has about 24 properties with 2,464 rooms under management contract.
"The overseas expansion strategy has been revisited, prioritising the key source market, as the company has decided to divest unsustainable propeties," said an analyst with a domestic brokerage who did not wish to be identified.
"China is the new priority, as it feeds into its properties in Mauritius and Malaysia."
The 112-year-old Tata enterprise has continued with its flagship brand, Taj, for over a century, attracting premium leisure travellers.

However, with the onslaught of international hotel brands in this country, it launched an upscale chain called Gateway in September 2008, and Vivanta by Taj two years later, to target business travel.

In the past eight years, it has also bought costly assets in key source markets, especially in America, to attract business travellers to its new upscale chain of hotels.

The logic is that as the bulk of travellers, for business and leisure, come to India from America and Europe, the company can create demand for its hotels by showcasing the brand in those markets.

That's why it now runs 16 hotels in key markets abroad.

The company aims to generate 40 per cent of its revenue from outside in India in the days to come, from about 30 per cent now.
In China, it plans to come up with a 200-room Taj hotel, and a Vivanta by Taj hotel with 300 rooms, in the Kunming Expo Garden of Yunnan province.
In January 2012, IHC signed an agreement with Yunnan Tourism Company to construct, develop and operate these hotels.
It also plans a Hotel Taj Temple of Heaven in Beijing and is developing a 300-room propery at Hainan island as a premium holiday resort.
The company hopes these will help it source customers for its hotels in Maldives and Malaysia.
"By divesting such assets, the company is exercising its financial prudence while meeting its expansion objectives," said a hotel sector consultant, who did not wish to be identified as he was not allowed to speak about any single company.
"This will help it improve cash flow to meet investment targets."