Rising prevalence of diabetes in small cities and rural areas in India due to change in lifestyle has thrown new opportunities for domestic pharma companies to cater to this emerging segment.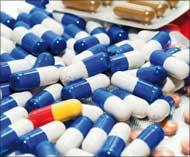 This phenomenon is not only restricted to Indian subcontinent but is also seen in countries like Brazil, Russia and China where rate of urbanisation is gradually increasing.
"Definitely, diabetes is on the rise in rural areas and it creates new market space for domestic pharma companies having speciality in diabetic drugs. In Biocon, we want to expand our domestic portfolio to tap this emerging trend," Kiran Mazumdar-Shaw, CMD of Biocon Ltd said.
She, however, said that government should facilitate better treatment to diabetic patients by creating better disease indicator.
"Diabetic drug market has witnessed 20 per cent growth per annum in recent time and is expected to sustain the momentum," she added.
As per a World Health Organisation report, global diabetic population is expected to cross 299 million by 2015 from 153.9 million in 2000. The major chunk of the patients will come from developing countries like India and China.
According to an International Diabetes Federation report, India, alone, is expected to have 50.7 million population suffering from diabetes by 2010.
Barring Biocon, companies like Lupin, Ranbaxy, Dr Reddy's and others are also slowly building up a sound portfolio to cater to this segment.
"In last four years, we have created a range of affordable drugs in diabetic space and also have an investigational new drug in the pipeline for Type-2 diabetes," Shakti Chakraborty, group president- India region formulations of Lupin said.
Lupin, which forayed into growing anti-diabetic drug market through Lupin Diabetes Care division in 2004, expects the market to grow at 23 per cent in near future.
Chakraborty also said that the company, with core specialty in oral drug division, would concentrate on more product offerings in related complications.
While diabetic drugs constitute insulin and exenatide in injectable space, metformin, sulfonylureas, thaizolidinediones, dipeptidyl inhibitors, meglitinide and alpha glucosidase inhibitors comprise the oral drug segment.
Said Sanjay Singh, associate director, KPMG, "There are a lot of undiagnosed populace left in the rural areas who will join the new patient list with improvement in the health care facilities in those regions."
He, however, said that rural patients required different approach by pharma companies like affordability of the drug, ample availability and efficient brand building method to be successful in the rural segment.
Companies like Biocon, Dr Reddy's, Ranbaxy, Cadila and Lupin are better placed to tap this new market, Singh added.
Presently, diabetic drug industry, which is worth Rs 2,300 crore (Rs 23 billion), is a fiercely fought market with severe margin pressure for the pharma companies.
"Rural market will be a high volume and low margin game for pharma companies but it has the potential of relieving the pharma majors from margin pressure in this segment," Singh said.
Not only the Indian companies are betting big in diabetic space, even global majors are also building up a sound portfolio to reach the newly added patients.
"Companies like Novo and Eli Lilly are those pharma companies with good portfolio and will benefit from India's position as diabetic capital of the world," R B Smarta, managing director of Interlink said.
He also said that since out of all detected diabetics, only 10 per cent were under medication, companies would see growth in this space.