Detailed order, to be passed on Monday, will consider green tribunal's decisions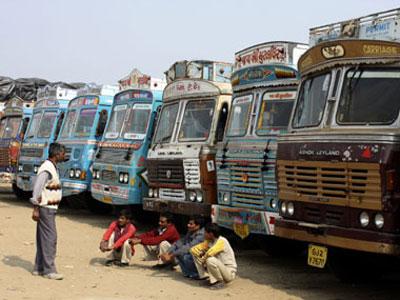 The Supreme Court on Friday gave an in-principle approval to impose an environmental levy on all commercial vehicles entering the national capital. It said it would give a detailed order in this regard on Monday, adding it would take into consideration the decisions of the National Green Tribunal (NGT), which had passed a similar order on Wednesday.
Senior counsel Harish Salve, appointed by the court to assist in environmental matters, has suggested the levy collected be handed over to the Delhi government on a daily basis, which would set up a fund. The fund, he added, could be used to improve roads, especially for the benefit of pedestrians and cyclists.
A bench of the apex court, headed by Chief Justice H L Dattu, heard the concerns of the parties - the governments of Delhi, Uttar Pradesh and Haryana - related to the emission of fumes in the capital. Subsequently, it said it would pass an order that would supersede the one by the NGT; the order will be implemented on an experimental basis for four months.
It is likely the order will exempt ambulances, passenger vehicles and those carrying food items and essential commodities such as oil.
Truckers have protested the move. Naveen Gupta, secretary general of the All India Motor Transport Congress, told Business Standard, "We are not against the proposed order but the government should tackle the problem in a holistic manner. Rather than only targeting us, more trees should be planted and oil companies should improve fuel quality." He said transporters wouldn't bear the extra burden, adding it would ultimately be passed to the consumer.
Salve has submitted his recommendations and these are likely to be incorporated into Monday's order. Salve had urged an environmental levy be charged on the grounds that commercial vehicles, while transporting goods to various parts of the National Capital Region, passed through Delhi to save on high toll taxes.
Informing the judges that 22,800-38,000 trucks entered Delhi every day, Salve suggested an "environment compensation charge" of Rs 700 on all light-duty vehicles and two-axle trucks, and Rs 1,300 on three-axle trucks and above.
He added though the number of entry points into the capital was 127, only nine accounted for 75 per cent of all commercial traffic. He, however, conceded these "figures are muddled".
If the Supreme Court accepts the rates suggested by Salve, and if the sample data available with the Centre for Science and Environment are considered, the authorities could collect Rs 4.43 crore (Rs 44.3 million) daily as environmental levy.
Recently, the CSE had claimed the actual number of trucks entering the capital was 70 per cent higher than the Municipal Corporation of Delhi's estimate. On an average, 38,588 commercial vehicles (excluding taxis) entered Delhi through the nine entry points, a CSE study showed.