As Sahara group chief Subrata Roy was arrested this morning amid high drama, son Seemanto said his father "wilfully submitted" before the Lucknow police and was cooperating with the authorities.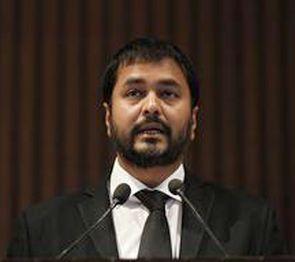 At a hurriedly called press conference in the national capital this morning, Seemanto Roy said Sahara chief was very attached to his mother and her condition continues to remain fragile.

He said that Subrata Roy was hoping for a short relief from the Supreme Court, but he decided to wilfully submit before the police this morning after the "agony" he suffered from reports about him being absconding.

Earlier in the morning, there were speculations that Subrata Roy himself could be present at the press conference and these talks gained further ground after a Delhi police team reached the venue.

Minutes before the press conference started, Sahara group lawyers informed the Supreme Court that Subrata Roy has been taken into custody by the Lucknow police. The court also rejected a petition for recall of non-bailable warrant issued for arrest
of Roy.
Addressing the conference, Seemanto Roy said he wanted to clear various misconceptions about the whole episode and put forward "certain facts for benefit of everyone, including employees, all stakeholders and public at large".
Seemanto said that Sahara chief had come to Delhi on February 24 to appear before the Supreme Court on February 26.
"He is very attached to his mother and had to go back to Lucknow due to her illness. He had only sought exemption only for a day from personal appearance before the Supreme Court. But he was not granted a short relief," Seemanto said.
"The condition of mother continues to remain fragile and he was hoping for a relief from Supreme Court," he said while trying to explain the delay in his submission before police.
Earlier in the morning before his arrest, Subrata Roy himself issued a signed statement from Lucknow, claiming he was not absconding and was ready to obey any Supreme Court direction "unconditionally". He had, however, appealed the court to allow him to live with his "ailing mother" in house arrest till March 3.
The court has asked the police to present him before it on March 4.