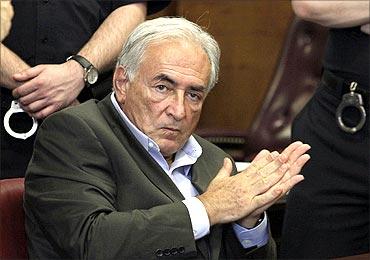 Disgraced former IMF chief Dominique Strauss-Kahn is understood to have reached an agreement to settle a lawsuit with a housekeeper, who had accused him of sexually assaulting her in a Manhattan hotel last year, a media report said.
Nafissatou Diallo (33) had filed a civil lawsuit against the one time French Presidential hopeful accusing him of sexual assault during his stay at the Sofitel Hotel in New York in the summer of 2011.

Strauss-Kahn (63) was arrested and indicted on charges including attempted rape and sexual abuse but the criminal case against him was dropped after prosecutors said they doubted the credibility of Diallo.

Strauss-Kahn had acknowledged that the sexual encounter between him and Diallo was consensual but described it as "an error" and "a moral failure" he would regret his whole life.

A report in the New York Times said lawyers for Strauss-Kahn, 63,
and Diallo are scheduled to appear next week before Justice Douglas McKeon in State Supreme Court in the Bronx to settle the lawsuit.

The report said details of the agreement, including if Strauss-Kahn is paying monetary damages to Diallo, are not known.

While the criminal case against Strauss-Kahn was dismissed, Diallo went ahead with the lawsuit, which sought unspecified damages for a "violent and sadistic attack" that humiliated her and robbed her "of her dignity as a woman".

Her lawyer said he was prepared to introduce testimony from other women who say they were attacked by Strauss-Kahn in "hotel rooms around the world" and in apartments specifically used by him "for the purpose of covering up his crimes".

Strauss-Kahn had later filed a countersuit, saying the housekeeper's statements had damaged his political career.

Photograph: Former IMF chief Dominique Strauss-Kahn gestures during his bail hearing/Reuters.