Equity flows have been under pressure since the second half of 2018, after the IL&FS crisis sent shockwaves in both equity and debt markets.
Illustration: Uttam Ghosh/Rediff.com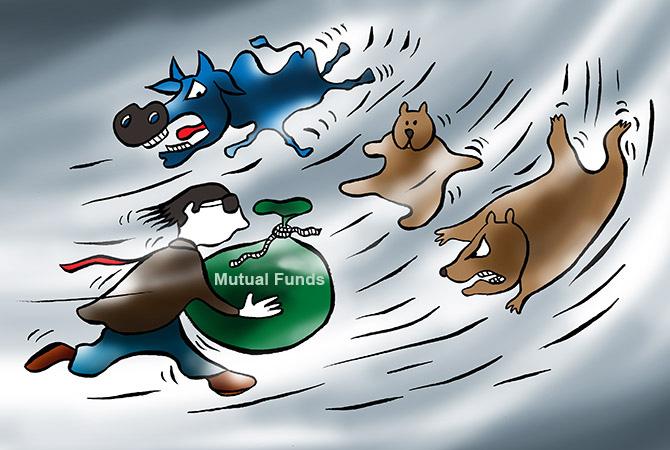 The sharp correction in the market is pushing mutual fund (MF) investors to the end of their tether.
Investment advisors say they are receiving multiple queries from investors looking to unwind their equity positions, even though they are staring at huge mark-to-market losses on investments.
"First, investors were waiting for elections to get over.
"Then, they waited for the Budget. However, sell-offs from foreign institutional investors (FIIs) after the Budget has turned into a major overhang, which has weighed on investors' returns," said Kaustubh Belapurkar, director (fund research) at Morningstar Investment.
Experts add that equity flows are likely to trend lower as risk-aversion is prompting investors to look for safer and less volatile alternatives.
"We are getting queries from investors on whether they should move their investments to liquid funds," said Amol Joshi, founder of Plan Rupee Investment Services.
Equity flows have been under pressure since the second half of 2018, after the IL&FS crisis sent shockwaves in both equity and debt markets.
Between November 2018 and February 2019, equity schemes saw four back-to-back months of slowdown.
In March and June, however, flows into equity schemes witnessed a spurt.
Flows in June were largely driven by the election outcome.
The benchmark indices are currently hovering around their five-month lows, following a sharp 8 per cent drop since the Budget.
"There is anger among some investors.
"They had started building positions in equity schemes two years ago and wanted to exit with a short horizon.
"However, they have not been able to exit.
"We are trying to urge investors to stay put as we fear that these investors will never return to the markets if they book losses at current levels," said Srikanth Matrubai, CEO of SriKavi Wealth.
A look at the last two years' performance further underscores the challenging times MF investors have had.
According to Value Research data, mid-caps have delivered 4 per cent negative returns over the last two years, while the small-cap category has delivered negative returns of 7 per cent. Large-caps (including index and ETFs) have, meanwhile, delivered paltry returns of 3 per cent.
Excluding index and ETFs, large-cap funds have delivered just 2 per cent returns.
While investors are looking to trim equity positions, fund managers feel this could be an opportune time for investors to build fresh positions.
"For the next 3-6 months, investors could look to build up their positions.
"The divergence between the Nifty and mid-/small-caps is at historical extremes.
"While it is difficult to spot the bottom, broader markets tend to outperform for 18-24 months after such extremes, historically," said Pankaj Tibrewal, fund manager at Kotak MF.
Both the NSE Midcap 100 and NSE Smallcap 100 are trading at two-and-a-half year lows.
Since July, the mid-cap index has corrected 11 per cent, while small-cap index has corrected 12 per cent.
Lack of earnings recovery, selling pressure driven by FIIs, and both domestic and global concerns, have all hurt the broader markets.