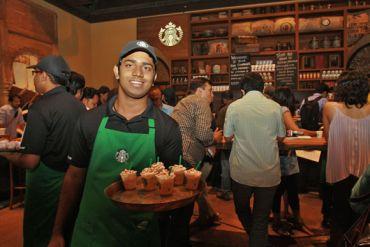 Starbucks opened its very first coffee shop in India, at 10 pm, at an stylish and historic address at Horniman Circle, south Mumbai, adding yet another outlet, and country, to its 18,000 store chain in 60 countries that serves 70 million customers a week.
A small cup of its signature Café Latte will be priced at Rs 95.  
Howard Mark Schultz, 59, the CEO, president and chairman of the 41-year-old Starbucks Coffee Company was in India for the launch of Starbucks in the country.  Schultz is also the owner of this coffee shop empire, as well as the author of two books on the Starbucks story.
He asked this reporter, ''Walking into this store, have you ever seen a store like this in any part of your country?"
Schultz said: "We are very excited about this opportunity. The size of the market is very large and there is a very large opportunity in this market. This is the first time we have opened any market, in over 40 years, with coffee which is locally sourced and roasted. You can see from this store, the design, the size, the scale, the intimacy, the elegance, not only is it a great Starbucks store, but hopefully you can see that this store has been designed with great respect and sensibility to the culture of India.
"We will open up a number of new stores. We are not going to talk about how many stores we are going to open. But we believe that the quality of the coffee, the presentation of the store, the passion and service that we will provide to our customers will quickly distinguish us from everyone else.''
The coffee shop offers a range of coffees, pastries, snacks and sandwiches apart from bottled waters, juices and chai and access to Wi-fi in a classic, retro ambiance. The menu offers nearly 50 choices.
Starbucks has been considering entering India for nearly six years now, apparently, and after announcing their entry, in January, as partners with the Tatas, it took them another nine months to open this outlet.
Another two outlets will open before next week is out at the Taj Mahal Palace hotel, Apollo Bundar, and at Oberoi Mall, Goregaon, and an outlet in Delhi follows. Unlike China, where Starbucks has 700 outlets already, India offers a developed market with a sizeable coffee-drinking population.
About what the opening Starbucks' first outlet in India meant for him, Schultz told rediff.com, "I said to many of my friends, privately: this is a historic moment for both Starbucks Coffee Company and for me personally. I have been to many store openings and many market openings. This is an emotional moment for the company and for me. Why? Because we have dreamed about coming here for many years and to be honest we have been frustrated that we just couldn't get it right. One, because we had the financial crisis that set us back. We couldn't find the right partner. In the last year or so everything has come together in terms of the market opportunity, where we are as a company and the help of Tatas."
Image: Starbucks flagship store at Horniman Circle
Credit: Rajesh Karkera