The much awaited coffee chain Starbucks will open its door for the Indian consumer on October 19 at Elphinstone Building, Horniman Circle, Mumbai.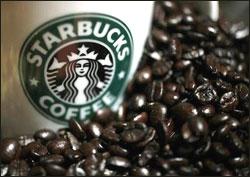 Earlier this month, Starbucks had announced that its first outlet will come up at Horniman Circle in October. Tatas did not disclose the exact date of the launch or the location of the coffee shop.
A company official privy to the details of the first Starbucks store confirmed that the store will open its doors on October 19 at the space next to Croma, the electronics retail store of the Tata Group owned by Infiniti Retail.
On October 19, Tata Starbucks Ltd will first hold an editors conference followed by sampling of its products by the media and consumers. At 8 pm the outlet will see the gala event where Ratan Tata will also be present.
A source close to the development said that the earlier plan was to convert the Croma Retail store into an Starbucks outlet. Ajit Joshi, CEO and MD, Infiniti Retail confirmed, there are no plans to convert Croma Retail into Starbucks.
The electronics store is doing well, and will remain operational, he said.
However, the Croma store stays and Starbucks will come up next to it in the Elphinstone Building, Horniman Circle, which is owned by a Tata Trust.
This flagship Starbucks outlet will have place for upto 150 people.
Starbucks has been trying to get the public excited with its launch through various social media offers and deals. Last week the company had organised an event for the food and coffee aficionados and bloggers in Mumbai and made them sample various Starbucks coffees and food that will be on offer at its India stores.
The Starbucks brand in India has been bought by an equal partnership-joint venture between Tata Global Beverages Ltd and Starbucks Coffee Company. The Indian company is called Tata Starbucks Ltd.
This will be the first Starbucks location to feature espresso sourced and roasted locally from India through coffee sourcing and roasting agreement with Tata Coffee Ltd.
Photograph: Yuriko Nakao/Reuters