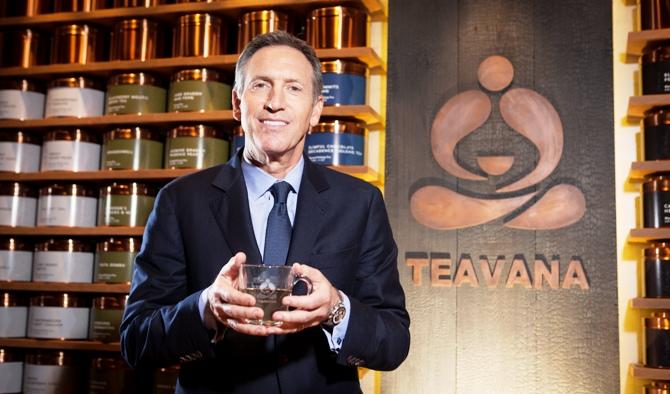 Starbucks aims to reach the 100-store-mark this year
Howard Schultz (pictured), Starbucks' global chairman and chief executive officer, will make a brief, but crucial visit to India on January 14.
Schultz, one of America Incorporated's high-profile executives, will visit India for the second time in three years.
His visit comes at a time when the company's Indian operation, a joint venture with Tata Global Beverages, has got a new CEO.
Last month, Tata Group's youngest CEO Avani Davda, who was heading operations at Tata Starbucks, stepped down, paving the way for Starbucks' US executive Sumi Ghosh to take over.
Ghosh will be by Schultz's side on Wednesday, as the 62-year-old surveys operations of the joint venture, engaging with employees and the management and going on market visits.
In between, Schultz, who joined Starbucks in 1981, will address top Tata Group CEOs and managers, as part of a thought leadership forum.
He is also expected to meet Tata Group chairman Cyrus Mistry, as the latter attempts to sharpen the 148-year-old conglomerate's consumer focus.
Mistry has identified retail and consumer among four verticals that would drive future growth.
In view of this, Schultz's dialogue with top Tata Group managers and CEOs is expected to help them imbibe the consumer-centric culture that Mistry is attempting to bring about, persons in the know said.
Schultz will also witness first-hand how Starbucks is doing in India when he visits the flagship store at Horminan Circle in Mumbai.
This was the same store Schultz inaugurated in October 2012, when Starbucks was launched in India.
From then, Starbucks opened 80 stores in six cities.
It now aims to reach the 100-store-mark this year, sources said.
On the financial front, Tata Starbucks narrowed its losses nearly 10 per cent in its second full-year of operation, namely 2014-15, with revenues touching Rs 172 crore from Rs 95 crore the previous year.
While the backing of the Tata Group has helped the venture sustain operations, the going, say experts, could get tough with competition growing.
The fight for footfalls, says Arvind Singhal, chairman, Technopak, is increasingly coming from fast-food brands than coffee chains.
"Today, McDonald's has a McCafé, and fast-food chains in general are beginning to look at beverages beyond colas," he said.
Image: Howard Schultz, chief executive of Starbucks, holds a cup of tea. Photograph: Carlo Allegri/Reuters