Homegrown auto major Mahindra & Mahindra today said creditors and shareholders of SsangYong Motor Co (SMC) have given a final approval to a rehabilitation plan, thus paving way for its $ 463 million acquisition of 70 per cent stake in the ailing South Korean firm.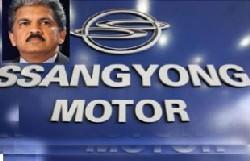 "Creditors and shareholders of SsangYong Motor Co passed an amended rehabilitation plan by an overwhelming majority today, taking a major step in the finalisation of the merger and acquisition process with M&M..." the company said in a statement.

In November last year, M&M had signed a definitive agreement with SsangYong Motor to acquire 70 per cent stake in the latter for $ 463 million (about Rs 2,105 crore).

Out of the total cost of acquisition, $ 378 million will be in new stocks and $ 85 million in corporate bonds.

Commenting on the development, M&M President (Auto and Farm Sectors) Pawan Goenka said: "We are delighted that the amended rehabilitation plan has been approved and now look forward to developing mid-term and long-term strategies for synergy and growth."

Post the approval, SsangYong can seek to terminate the two-year long rehabilitation process, which began in February 2009, the statement added.

Under the plan, by February this year the newly issued stock for capital increase will become legally effective, while the proposed corporate bonds will also be issued.

Repayment of rehabilitation claims would be done by February-March, the statement said.

SsangYong Motor Joint Receiver Yoo-Il Lee said Mahindra's international footprint, strengths in R&D and product development will enable SMC to emerge as a global sports utility vehicle player.

Goenka had in the past said there was an opportunity to introduce a premium portfolio of SUVs in the Indian market, providing a new growth avenue for SsangYong and "further strengthen our dominant position in the UV segment".

In August this year, M&M had signed a pact to acquire SYMC, after being chosen as the preferred bidder in a race, which had also included Kolkata-based PK Ruia group.

As part of its deal wit SMC, M&M will get one more manufacturing base in South Korea, besides gaining access to a wider network of component sourcing.

SYMC has 138 dealers in its home country, while 1,300 dealers are located across 98 nations. It had sold 35,000 units in 2009.