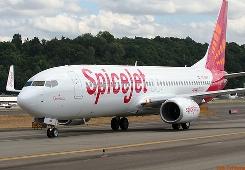 No-frill carrier SpiceJet will become the first Indian airline to fly directly to China when it begins its services to Guangzhou from here in February next year.

Expanding its international operations, the airline will launch its daily direct flight to Saudi Arabia's capital Riyadh from January next year.

"Flight on Delhi-Riyadh route will be operational by January 4, 2013 while the first flight from Delhi to Guangzhou, capital city of Guangdong Province's (People's Republic of China), will take off on February 8, 2013," an airline spokesperson said.

With the launch of its services to Guangzhou -- the centre of education, culture and communication in southern China -- SpiceJet would be the only Indian carrier to connect India with Guangzhou.

Guangzhou
is also one of the three biggest exhibition cities of China.
Apart from these, the airline will fly to seven more international destinations from India.
At present, SpiceJet operates to Kathmandu, Colombo, Kabul, Dubai and Male.
The airline would be deploying 189-seater Boeing 737 NG aircraft on Delhi-Riyadh as well as Delhi-Guangzhou route.
"We at SpiceJet are very excited about these two great new routes to Riyadh and Guangzhou which will give passengers more choice." said Neil Mills, SpiceJet CEO.
Last week, the airline announced its plans to launch its services on three new international routes -- Kochi-Male, Kochi-Dubai and Ahmedabad-Dubai.
While Kochi-Male flight started on November 29, Kochi-Dubai would start from December 10 and Ahmedabad-Dubai from December 19, the spokesperson said.