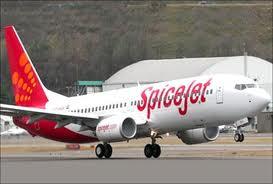 Domestic low-cost carrier SpiceJet has selected Boeing's 737 Max, fuel-efficient and narrow body aircraft, for its fleet expansion.

Boeing's latest offering promises 13 per cent fuel savings over the current generation of planes and would enter into service from 2017.

Though a formal purchase agreement with Boeing is yet to be signed, SpiceJet's order size could be of 40-50 planes, a source familiar with the development said. At list price, a 737 Max aircraft is valued at about $100 million (Rs 620 crore).

The airline did not respond to an email. While a Boeing spokesperson said, "We do not comment on specific issues regarding our customers.''

Earlier in the year, Jet Airways signed a purchase agreement with Boeing for 50 737 Max aircraft, making it the first Indian airline to choose the aircraft.

However, both the airline and aircraft maker have not announced the deal till now.

SpiceJet was in negotiations with both Airbus and Boeing for expansion of its fleet.


It currently flies Boeing 737s and Bombardier Q-400 turbo props aircraft, the latter used to serve Tier-II and Tier-II cities.

The airline's current fleet size is 56 planes, which includes 41 Boeing 737s and 15 turbo props.

Fleet commonality is one reason that might have prompted SpiceJet to go along with Boeing. Operating two or more aircraft types requires airline to have different set of pilots and engineers and keep separate inventory of spares.

The 737 Max order would take care of SpiceJet's future growth plans.

"SpiceJet, Jet Airways and Air India Express are the three target customers for the new Boeing 737 Max planes. We think this aircraft can further enhance (these airlines') profitability," Dinesh Keskar, Boeing's senior vice-president (sales, Asia Pacific and India) had said last month.

SpiceJet is expanding its international operations to improve dollar earnings and offset losses caused by currency rate fluctuations. Over the next few months, the airline would be launching flights to Bangkok, Dubai, Sharjah, Dammam (Saudi Arabia) and Riyadh.