The change from wholesale to retail inflation as an anchor means that the weightage of diesel in inflation has decreased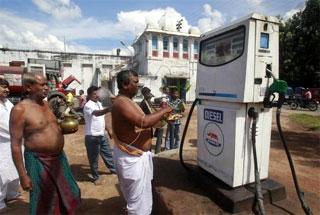 A section of India Inc is euphoric about the recent diesel price deregulation. To be sure, the government's announcement over the past weekend of a long pending reform is reason for cheer in a country that was starving for routine decisions, let alone reform, during the past five years of the UPA regime.
However, the optimism from certain industries was not because of the reform per se. Economic reforms are made with a long term objective. But cheerleaders choose to harp upon the short term impact: a cut in diesel price will mean softening inflation, hence the Reserve Bank of India (RBI) – led led by former International Monetary Fund chief economist Raghuram Rajan who has displayed extraordinary resolve in fighting the battle against price rise – should go for a rate cut!
A closer look at the inflation matrix and the central bank's yardstick of inflation will leave India Inc's rate cut proponents disappointed.
Following the Urjit Patel committee report on monetary policy framework, the central bank has altered its inflation goal post. As against Wholesale Price Index (WPI)-based inflation, RBI has now chosen Consumer Price Index (CPI)-based inflation as its nominal anchor. CPI, or retail, inflation affects the aam aadmi more, hence the change of yardstick.
The reduction in diesel prices following the deregulation is around Rs 3.37 per litre. Diesel accounts for 4.7 per cent of WPI inflation but, in CPI-inflation it account for a mere 0.04 per cent. As a result, the central bank's nominal inflation anchor will not be affected much with the diesel price cut.
However, a 33 per cent hike in gas prices -- an announcement that came simultaneously along with diesel price deregulation – will have a definite impact on retail prices. The net effect, as economist Sonal Verma of Nomura calculated – could push CPI inflation up by as much as 20-30 basis points.
What also needs to be borne in mind is that fuel prices have now been deregulated. Experts have been questioning how long crude prices will continue to fall, but essentially saying that when the direction reverses, it could have an negative impact on inflation expectations.
CPI-based inflation cooled to 6.46 per cent in September, the lowest level since January 2012 on the back of declining prices of fruits and vegetables. One may argue that prices may not continue to decline in the coming months, which could make the headline numbers sticky.
India Inc may therefore have to wait for some more time for a complete reversal in the policy stance of the central bank.
Manojit Saha is the Banking Editor at Business Standard