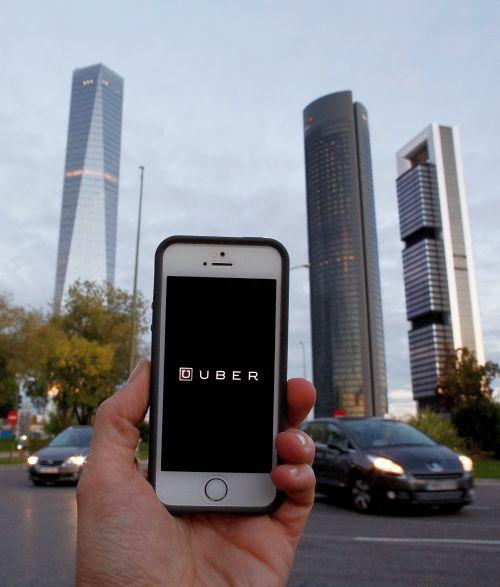 Image: A smart phone displays a picture with the logo of the taxi app 'Uber'.
Photograph: Pablo Blazquez Dominguez/Getty Images
'Make every trip feel like an escape' says the Uber website. Ironically, it remains to be seen how the company can get away from this controversy.
One year after it started operations in India, Uber has hit the headlines for the wrong reasons.

The Delhi government on Monday banned the company from operating services in the city after the alleged rape of a 27-year-old woman executive in a Uber cab.

Here are 15 facts you did not know about this cab service…
Founded as 'UberCab' by Travis Kalanick and Garrett Camp in 2009, Uber today offers service across 250 cities in 50 countries.


Uber which is valued at $40 billion launched services in India, its second-largest market outside the US, in September 2013.
Uber is available across 11 cities including Mumbai, Kolkata, Delhi and Bangalore.


In India, drivers are given an iPhone, which has an Uber application. So the driver can track a customer and that helps them reach the location on time.


However, the flip side is if the phone is switched off, the GPS does not work. The cars do not have GPS systems so there is no way to track cars once the phone is off.


Uber is not new to controversy. It has been facing flak from taxi drivers and operators in other countries for unfair business practices.


There have been protests abroad as well. Thailand has asked Uber to stop operations as drivers were not registered or insured to drive commercial vehicles and Uber's credit-card payment system did not comply with regulations, according to Reuters.


In Vietnam too, Uber's operations are reported to be illegal, as the company was not authorised to launch a taxi service.


Uber's services in India flouted norms of the Motor Vehicles Act, 1988. For a small trip within Delhi, the company provided a taxi with an all-India tourist permit which is against the laws.


RBI had raised objection when Uber initially launched services in India. The central bank was against direct transactions on app as it results in foreign exchange leaving the country as payments are made in dollars. Uber has however accepted the mandatory regulatory measure by the RBI and teamed up with an online recharging portal called PayTM to facilitate payments.


Uber charges higher than metered taxis and the customer can pay only with a credit card after registering and creating an Uber account.


Uber hires just three employees in each city, who manage all the operations in the city from partnering with drivers and managing them and serving clients.


Uber also rates its customers. If the driver is kept waiting, you are considered a less preferred customer!


Uber launched its more affordable version UberX this June with a base fare of Rs 50.


Uber drivers are allowed to operate with other travel operators and pick Uber customers only when they are free.