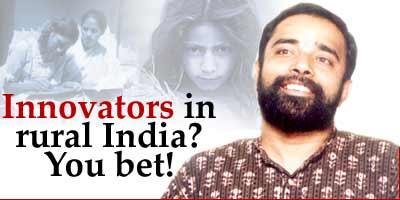 Anna Saheb Udgave, a 70-year-old farmer from the Sadalga village in Karnataka's Belgaum district, developed a low-cost drip irrigation system to fight water crisis in his village.
When the situation improved and water became available in plenty, he started farming sugarcane in place of betel leaf. Later, he improved upon his innovation and turned it into a mega sprinkler, and called it Chandraprabhu Rain Gun.
Other impressed farmers of the same village slowly started using Anna Saheb's rain gun in their farms.
Now, if Anna Saheb's rain gun can be found in the market and if the farmers of Tamil Nadu, Kerala and Karnataka are using it successfully, it is all because of a Chennai-based non-profit organisation -- Rural Innovation Network.
RIN is the brainchild of Paul Basil from Moovattupuzha in Kerala. Basil, a mechanical engineer with a post-graduate degree in forestry management, worked for the National Dairy Development Board. Later, he worked with the European Union's horticultural project in Kerala.
His association with Honey Bee Network, formed by a group at the IIM-Ahmedabad, that studies innovations by people in the rural areas and its impact on rural life also had a major bearing on his decision to start working on similar lines. But his plans were to commercially market the innovations.
"My experiences with milk farmers and horticultural farmers gave me a commercial outlook within the development sector. In both the cases, the idea was to create enterprise and generate income for the rural area. I found the idea quite interesting and decided to start something of my own along the same lines. Innovators are very complex, excited people who often change tack. They start work on one idea and then move from one to another. The creativity in them is astounding. It is interesting to watch their excitement," Basil says.
He set up RIN (www.rinovations.org) in January 2001 with just three people. It was a difficult journey setting up such an organisation, he admits.
"The toughest part was credibility," Basil says.
Luckily, a group consisting of a couple of people from the United States -- Impact Partners -- was looking for a project just like Basil's, to fund.
Basil describes RIN as an organisation that focuses on promoting rural innovation-based enterprises and a business incubator that turns grassroots innovations into commercial enterprises.
"RIN facilitates creation and sustenance of wealth for the rural community. RIN is in the process of identifying innovations at the grassroots level and extending its expertise to facilitate their growth into full-blown enterprises."
Having established an office in a metro, RIN uses multiple points like Chennai's engineering colleges, agricultural universities, research institutions, patent offices, local fairs, exhibitions and banks to identify innovations.
"This is how we reach out. We look at all the innovations with a commercial outlook. There cannot be any emotional link or excitement to it, as these products have to be bought by someone. The value behind the product is what sells."
Once identified, RIN does a market research of the product to find out whether the idea is commercially viable. Then, they refine the products by making the innovations market-friendly, which means a lot of engineering work and overhauling.
"Mostly the innovations are there in a crude form. They only have made a prototype, a single unit. When you have to make 100 or 200 units, it is a different ball game. That is why it requires a lot of engineering, and this is the most challenging aspect of any innovation."
As most of the innovators are not good businessmen, it is essential to find out someone who can run the business. In most cases, the innovator passes on the technology to an entrepreneur or a company for a royalty.
So what is the role of RIN in this? "We are just enablers," says Basil. "We basically provide consulting inputs to, both, innovators and entrepreneurs. Our job is to tie the loose ends. There are several private entrepreneurs out there who want new products. We also help the entrepreneurs develop markets."
The first innovation that RIN started working on was a coconut de-husker developed by Jayaseelan, a small time coconut trader in Virudunagar district of Tamil Nadu. But the first year of operation was a bit of a disappointment in the sense that RIN couldn't market any of the innovations it spotted successfully.
"We were just learning, and learning the hard way. We concentrated on the whole of South India first, which was a mistake. Then, we decided to concentrate only on Tamil Nadu, and it gave us better results in the second and third years."
The most successful product marketed by RIN till date is the rain gun, created by Anna Saheb. When RIN found the marketability of the product, they brought in the Chennai-based Servals Automation Pvt Ltd and the company signed a technology transfer agreement with Anna Saheb.
Anna Saheb got a fixed royalty for his innovation, and RIN filed for a design registration of the rain gun. The Chandrababu Rain Gun was renamed Varsha Rain Gun, and now it is an important product marketed by Servals Automation. From Sadalga, Anna Saheb's rain gun started travelling all over the country.
Mumbai-based Aavishkaar India Micro Venture Capital Fund (AIMVCF) made an investment of Rs 800,000 to pick up a 49 per cent stake in Servals Automation. According to RIN, this is the first such micro venture investment of its kind in India, if not the world over. So far, 60 rain guns worth Rs 200,000 have been sold.
Another successful innovation is the Venus stove burner developed by V Thiagarajan, a 64-year-old mechanical engineering diploma holder. He developed the burner after his retirement and patented it in 1999. It is a design that reduces kerosene usage by 37 per cent. RIN helped the innovator raise money from AIMVCF.
A manual milking device -- J S Milker -- is another innovation that has found acceptance in the rural areas. J S Milker is manufactured and marketed by J Support Industries headed by Joy John of Pothanicad, Kerala.
J S Milker is a simple vacuum driven portable machine, which can be used to milk cows effortlessly.
J S Milker is so successful in South India that RIN is planning to market it in Gujarat, where there are several milk co-operatives.
A banana stem injector developed by Manoharan, a lathe owner of Batlagundu in Tamil Nadu, is similar to a syringe which can be used to inject pesticides into the psuedo-stem of the banana that is diseased.
"It helps manage indiscriminate pesticide application in banana cultivation, leading to a 20 per cent cost saving in farming operations," says Basil.
A solar water harvester conceived by Deepak Rao of Chennai has received a grant of Rs 190,000 from the Techno entrepreneur Promotion Programme (TePP) of the Department of Science and Technology, Government of India.
The grant is based on a joint proposal provided by Deepak Rao and RIN, for technology development. "It uses solar energy to convert un-potable water to potable water. The product is still going on, and we are yet to commercialise it. From a 1 square metre model, we can have 5 litres of pure water per day. We are looking at it from a domestic point of view, especially in Chennai, where water scarcity is a big problem."
Deepasakhti Pooja Oil, a blend of five different oils in a ratio prescribed in the Indian shastras does not produce any soot but gives a bright flame. It lasts longer and the fumes produced repel disease-causing bacteria. It is now being commercially manufactured by KP Castor Oil Works in Coimbatore, because of RIN.
As an enabler, RIN started off on 'welfare footing.'
"We used to offer free services as we were supported by grants and donations. So it was a kind of voluntary work that we were doing initially. But slowly we realised that voluntary work is not going to get us anywhere because of two reasons. It is not just revenues alone that mattered; we found that when we offered free services, people did not take us seriously.
"We also realised that we had to charge for services if we were to sustain ourselves. We charged Servals Automation for helping them set up the business, and develop the market. The requirement changes with each innovation. It could be market development for one; it might be training for another. It could also be product development. It varies. We offer a whole range of services," Basil says.
Basil wants to consolidate their presence in Tamil Nadu in the next one-year, and then start working with innovators in Kerala for three months.
"Only after that, we will think of other states. We also want to find out through market research, which part of India has more innovators and more entrepreneurs. We have a strong feeling that it is the South Indian states that are very much advanced in enterprise and innovation. We have 11 innovations to work on now and we want to increase the number to 20 in the next 1-2 years."
Basil wants to make use of the Internet kiosks -- set up by a team led by Prof Ashok Jhunjhunwala of IIT, Madras -- to market the innovations.
"We want to use unconventional marketing methods and these kiosks are the best thing that has happened to these villages."
So what does Basil call himself -- a social worker, an entrepreneur or a businessman? "I don't want to have any tags. We have registered as a Section 25 non-profit company. We have a commitment to impact rural life. I don't think only social work can improve rural life. Our objective is to commercialise rural innovations, and thereby create a special impact in the rural areas."
In the last more than one decade that Basil has been working closely with rural South India, he has found several changes taking place.
"Women in a Tamil Nadu village have innovated a sanitary napkin. If rural women are willing to look at sanitary napkins, it means their outlook and lifestyle has changed. I think access to information has improved their lives. There are so many things happening in the rural India," he adds.
Paul Basil's photo by Sreeram Selvaraj