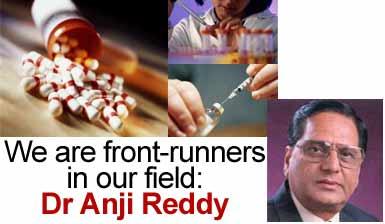 Chairman of Dr Reddy's Laboratories, Kallam Anji Reddy, says the pharmaceutical major is poised to make a difference in drug discovery and produce blockbuster compounds.
He was delivering a lecture at Pharmacophore 2004 -- an international symposium in Hyderabad on 'Innovating Drugs: Emerging Perspectives' to mark ten years of drug discovery research at Dr Reddy's Labs on January 16. Excerpts:
People of my generation have been influenced by two great world leaders.
"One is Jawaharlal Nehru, who laid the foundation of modern India and had the vision and courage to steer the nation on the path of democracy and scientific progress.
"I was one of those who was energised and inspired by his call to advance the frontiers of science and technology to build a strong and self-reliant nation.
"The other leader that inspired a whole generation of scientists is John F Kennedy. His Profiles in Courage transcended national boundaries.
"Just one event alone captures the impact of his leadership and the spirit of those times -- that of man landing on the moon in July 1969.
| | |
| --- | --- |
| | Also Read |
| | |
"I must confess that this event changed my life forever. I realised that the limits to what man can achieve in the world of science, are possibly limited more by diffidence and timidity than anything else.
"I determined that I ought not to be diffident or timid when it came to aspiring for progress in the realm of science.
"Coincidentally, a friend working in NASA (National Aeronautics and Space Administration) presented me a key-chain commemorating the event and this key-chain is still with me, holding important keys to many of my valued possessions.
"Less than six months after man landed on the moon, the pharmaceutical industry in India was granted a great boon -- the patent laws were changed and the Indian Patent Act of 1970 was passed.
"'Product patents' for medicinal products were no longer recognised and only 'process patents' continued to be recognised. The pharmaceutical industry in India grasped this opportunity with both hands and proved dramatically that its reverse engineering skills were second to none in the world.
"Also this has resulted in the birth of affordable medicine.
"While everyone is pre-occupied feasting this opportunity, in 1992, I started thinking in an entirely different way -- with 25 years of experience of synthesising a plethora of drugs that involve 2 to 20 steps, can we get into drug discovery and make a difference?
"I made up my mind that we can and took the plunge on November 6, 1993. We jumped into discovery with a budget of about Rs 6.5 crore (Rs 65 million). In the current financial year we have budgeted an expenditure of Rs 165 crore (Rs 1.65 billion), a 25-fold increase in the R&D spend.
"But, what difference did we make?
"In three years from inception, we discovered one of the most potent glitazones and on March 1, 1997, we licensed the molecule -- now called Balaglitazone -- to the world leader in diabetes, Novo Nordisk of Denmark.
"The two glitazones now in the market have sales of nearly $3 billion and growing at more than 25 per cent annually.
"Both the glitazones are potent PPAR (peroxisome proliferator-activated receptor) gamma agonists and have the problem of weight gain and edema.
"Balaglitazone is a partial PPAR gamma agonist and phase-II results indicate that it has a better side effect profile than the existing glitazones.
"In 2004, we expect Balaglitazone to enter phase-III clinical development.
"Our continued foray into PPAR research resulted in a dual PPAR-gamma, alpha compound -- Ragaglitazar. On June 1, 1998, we again licensed this to Novo Nordisk. The lipid profile of Ragaglitazar was so impressive that Novo Nordisk in its PLPC said, "If we can reproduce the favourable animal data in humans, it will increase the life expectancy of diabetic patients by 10-12 years."
"This was once again a defining moment in my life and I believe that it answered my question, 'Can we make a difference in drug discovery?'
"Ragaglitazar did live up to its promise in phase-III, but unfortunately the dose at which it reproduced the animal data in humans also caused unacceptable side effects and as a consequence, development of Ragaglitazar was suspended in December 2002.
"As a result of the expertise we gained in PPAR research, we argued that raising HDL (high-density lipoprotein) levels was the next frontier in cholesterol management and that we were in a position to discover and develop a predominantly PPAR alpha agonist that could fulfill this unmet medical need.
"'DRF 10945' was the direct outcome of this conviction and we expect to submit an Investigational New Drug Application in Canada this month.
"In the year 2000, we began to reflect on our inadequacies. It is one thing to bring NCEs (new chemical entities) to development by analogue research, but the path-breaking developments in science, including the unraveling of the human genome, was paving the way for newer hitherto unknown targets in drug discovery.
"We decided to get into this area and started scouting for talent all over the world. While the response was lukewarm, we were fortunate to attract Dr Uday Saxena, the then vice president of research at Atherogenerics, Atlanta.
"He was prepared to set up shop in Hyderabad. Once again, in a new twist to the tale, I asked Uday to stay back in Atlanta and build a lab there for harnessing the new science that was unfolding. (A subsidiary -- Reddy US Therapeutics -- was set up in Atlanta to engage in target-based discovery).
"That decision proved to be correct because we were not only able to create facilities fast and get going; we were able to get the best of talent available in the US.
"In the year 2000, we hypothesised that Atheroscelorosis can be treated using a multi-pronged approach and targeted a protein called perlecan that can block inflammation, proliferation and thrombosis.
"In three years flat we were able to prove our hypothesis in animal studies and we now have a compound that will soon enter regulatory toxicology studies.
"Uday will tell you more about this and also make a detailed presentation of our work in the past one decade.
"Analogue research first and target-based discovery next. We have forayed into both and I am immensely proud of the results achieved by our scientists who have worked with unflagging zeal and a quiet confidence in their ability.
"They have proved that they are as much at the forefront of discovery as anybody else in the industry, anywhere in the world.
"Even as we celebrate ten years of our effort in discovery, I would like to raise a toast to our dedicated scientists.
"I said at the outset that diffidence has no place in matters of science and I am therefore not diffident about airing my conviction that we have made a difference in the ten years of our discovery programme.
"More than the molecules that we discovered, the big difference we made is that we have gained recognition from the world that we are the front-runners in the field that we have chosen.
"Having joined the mainstream, we now have the opportunity to build on our experience for the benefit of humanity. I strongly believe that drug discovery is a noble, perhaps even a spiritual, pursuit. It is beyond bottom lines and investor relations.
"The mission is to improve the quality of life and life expectancy itself. George Merck said it very well: 'Medicine is for people. It is not for the profits. The profits follow, and if we have remembered that, they have never failed to appear.'
"Even as we mark the completion of a decade in our quest to conquer disease for the benefit of humanity with this celebration, on behalf of my colleagues in discovery research, and on my own behalf, I would like to renew our commitment to advancing the frontiers of science in drug discovery.
"We draw strength from the participation of our distinguished speakers and indeed from the presence of every one of you: and I must gratefully acknowledge how much I value this.
"Thank you very much."