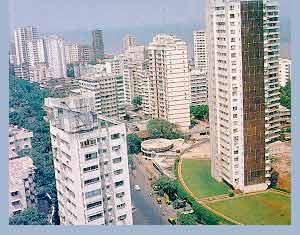 It was a tiny construction company founded in 1986 with the modest goal of developing farmland in Sohna, 30 km from Gurgaon.
Today the Vatika Group's flagship project is the multi-crore Vatika City, a sprawling township of more than 2,500 apartments surrounded by parks and well-laid pavements, that's scheduled to be ready by 2005.
The mini-city has been designed by a firm of British architects which designed London's ambitious Canary Wharf.
Travel southwards to Bangalore and Hyderabad. It has been a year of breakneck growth for IDEB Construction which is breaking new ground in both the southern cities.
IDEB is building almost 2 million sq ft of malls, residential apartments and a software park. If that isn't enough it's about to start developing another 1.6 million sq ft in the next few months.
Mid-sized companies like Vatika, Senior Builders, Omaxe and Ambience in Delhi or IDEB in Bangalore are taking on giant projects to cash in on the real estate boom.

To stand out in the crowd builders are coming out with ambitious projects like an auto mall in Gurgaon, a furniture mall in Bangalore and India's first exclusive jewellery mart.

Many smaller companies have grown by 100 per cent annually for the last two or three years.

The riskiest element of the building boom is that it's almost completely dependent on infotech and IT-enabled services. If anything goes wrong the smaller companies would be badly hit.
Its most unusual project: a mall in Bangalore in which over 100,000 sq ft will be devoted only to furniture.
The building boom sweeping metropolitan India is coming as manna from heaven for a group of mid-sized construction companies.
A few years ago they were the relative minnows of the construction business following in the footsteps of giants like DLF, the Hiranandanis and the Ansals.
Today companies like Vatika, Senior Builders, and Ambience in Delhi or IDEB in Bangalore are taking on giant projects of their own and hoping to cash in on the real estate boom that's sweeping the country.
Even in Mumbai the construction boom has pushed smaller companies into the limelight. Take the 43-year-old Evershine Builders which is involved in two mega projects in suburbs like Vasai and Kandivli.
It's currently building 1,000 flats in Vasai and about 500 in Kandivli -- both projects are being developed in phases.
Says J S Augustine, CEO, Evershine Builders: "You could say our growth has been 100 per cent year on year. This year we'll grow at 50 per cent, because we're a large company now and obviously growth rates can't be that high now."
Figures in the construction industry are notoriously unreliable. But there's no question that smaller builders are making the leap into the big time.
Nevertheless, they are still far behind industry's giants. DLF, for instance, is building about 4 million sq ft of residential property and 2.5 million sq ft of office space.
Besides that it's also building about 500,000 sq ft of shopping complexes.
Similarly, the giant Ansal Group has just signed a deal to build a new township on 500 acres of land in Kundli adjoining north Delhi.
The new township which will be called Sushant City will house 50,000 people. The Ansals are taking care to move away from the herd of builders heading for places like Gurgaon.
But the smaller companies certainly aren't short on ambition. Travel along the outskirts of Delhi to Noida and Greater Noida where the Omaxe Group has called in the cranes and bulldozers to turn its ambitious projects into reality.
Most ambitiously, there's the 1.4 million sq ft Omaxe Connaught Place billed as the largest shopping complex in India.
Equally ambitiously, it's building a mini-township called NRI City on 85 acres of land in Greater Noida. NRI City will have 2,500 apartments with a slew of modern facilities thrown in.
Move back to Gurgaon where the Ambience Group is building a 150-acre luxury township called Ambi Island.
In the first phase about 325 luxury dwellings are being built in the township. To service the township the Rs 250 crore group is also building the hi-tech Ambi Mall in Gurgaon scheduled to be ready by 2006.
Ambi Mall will offer the usual food courts and theatres. But there'll also be a 225-room deluxe hotel, which will be a joint venture with the Marriott chain.
In addition, the shopping mall will have an only by invitation Platinum Floor for VIP shoppers. Ambience currently has projects worth over Rs 850 crore (Rs 8.50 billion) in hand in Delhi and Gurgaon.
All the newcomers are facing one problem: how do they make their presence felt when scores of new glass-and-concrete projects are already dotting the landscape?
Many builders are scouring the world for new concepts that can be transplanted on Indian soil.
IDEB, for instance, is hoping that a giant furniture section at its proposed Outlet Mall on the outskirts of Bangalore will bring in customers.
Most ambitiously, there's the Senior Auto Mall to be constructed in Gurgaon by Senior Builders. What's an auto mall?
The Senior Auto Mall will be a 10-storeys of auto showrooms complete with a test track where would-be owners can try out new vehicles.
To make the transaction smoother there'll be banks and insurance companies vying to offer the best terms. And, there'll be food court so that a car buying expedition can be turned into a family outing.
"When a family is planning to buy a car, everyone is interested in seeing it," says Vijay Dixit, managing director, Senior Builders. The company says it is handling projects worth around Rs 1,600 crore (Rs 16 billion).
If that's not exotic enough, how about the Gold Souk in Gurgaon billed as India's first exclusive jewellery mart. The Souk will be ready next March and it has room for 70 showrooms spread out over 100,000 sq ft.
Aerens is also constructing a Rs 60-crore (Rs 600 million) entertainment complex that will be ready by June and it hopes to start an IMAX theatre by 2006.
"Our focus is on entertainment, since we believe that is where the future of this industry is," says Sanjay Kakkar, project director, Aerens Group.
Is there enough demand to sustain this building boom of epic proportions? The builders certainly think they are constructing on firm foundations.
Vatika executive director Gaurav Bhalla reckons that about, "40 families are moving into Gurgaon each week, and a new company comes in every 10 days or so."
But these companies are being forced to try harder and make their properties more attractive for potential buyers. Take Neelkanth Builders which has been constructing at a furious pace in Mumbai.
One of its projects Neelkanth Heights in Thane has a lake on the property. There are even two natural hillocks inside the property which, the company says, adds to its charm.
The fact is that developers today -- especially the smaller ones -- have to throw in all kinds of features which they wouldn't have bothered with a few years ago.
Evershine Builders, for instance, is providing a range of facilities from modular kitchens to piped gas and Internet connections. Some of its flats are even fully furnished.
"You just have to shift in with your family and clothes," says Augustine.
Certainly, buyers today expect more. Closed-circuit television, and earthquake proofing are expected as standard features in most upmarket blocks these days.
"The level of featuring offered today has definitely gone up. Today swimming pools, clubhouses and such are the norm," says Mofatraj Munot, vice chairman, Kalpataru Group in Mumbai. The Kalpataru Group in involved in projects all the way from south Mumbai to Mira Road in the west and Thane in the east.
Is this a real estate bubble that's about to burst? Ansal Group Chairman Sushil Ansal is sceptical about the future and the gold rush mentality that is building up.
He's taking care to build in areas like Kundli, which is on the Chandigarh highway where others haven't started looking (most building in Delhi, borders the affluent south Delhi area).
Ansal reckons there'll be a double bonus in building in the area. Land will be cheaper allowing for escalation. And there will be strong demand from the affluent traders who live in north Delhi.
Says Ansal: "Our strategy is to go to areas where the market is not already congested."
Of course, it should be noted that despite his scepticism Ansal is putting up 1,200 residential units in Gurgaon.
Also, he has built a 700,000 sq ft multiplex and shopping complex called Ansal Plaza in Greater Noida of which 80 per cent has already been sold.
But the others are more confident about the future. Pradeep Jain, chairman, Parsvnath Developers, points out that his firm has grown by 154 per cent in the last year, "It's common knowledge that Delhi is bursting at its seams. But the opportunities available in other parts of the NCR are boundless," he says.
Jain doesn't believe that the construction boom is on shaky foundations.
He cites factors ranging from cheap homes loans, to family fragmentation and improved connectivity across the NCR.
Similarly, Raj Singh Gehlot, chairman, Ambience Group, points to the changing consumer attitudes.
"Earlier, there was the conservative culture of accumulating one's savings and sacrificing the present to the future," he says. "But now people are spending a lot more."
The key to success in the real estate business, of course, depends on the price at which the land has been bought. That's where many mid-sized companies are at a disadvantage compared to the bigger groups.
DLF, for instance, bought up large tracts of land in Gurgaon several decades ago. This put them in a particularly happy position and it means that many builders are also forced to buy from them.
Inevitably, a lot depends on infotech and IT-enabled services. Front-running companies like Wipro Spectramind and Daksh e-Services have been booming and hiring in the thousands in the last few months.
"The boom in commercial activity is being driven by IT and IT-enabled services. So both commercial demand and residential demand, which is generated from the former, will continue to increase," says Sanjay Verma, executive director India, Cushman and Wakefield.
Verma reckons that building activity won't slow down yet. "There should definitely be adequate demand in areas like Gurgaon and Noida for at least the next two years," he says.
Others are equally confident about Bangalore and Mumbai. In Bangalore, of course, the boom is almost entirely dependent on the infotech boom.
Is this a building boom that will go on forever or is the music about to stop?
Will Bangalore be the Silicon Valley of the east and the scene of unstoppable growth? And will Gurgaon be for India what Pudong, the giant suburb of Shanghai is for China? Pudong didn't exist in 1990 and today it's a sprawling twin city to Shanghai.
The builders certainly believe they are building cities for the 21st century and they will keep pushing the pile drivers into the earth.
Additional reporting: Raghavendra Rao and Arti Sharma.
Powered by