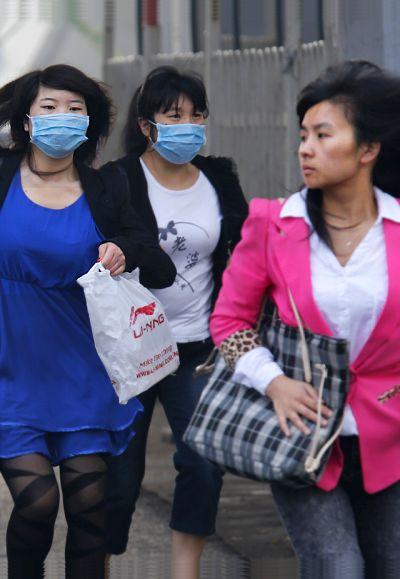 More than 200 expressways were closed and residents were advised to stay indoors as China grappled with the worst smog of the year, ahead of the Paris climate meet on Monday.
Shandong province issued a yellow alert this morning as visibility in parts of the region dropped below 200 meters.
The heavy smog is likely to continue in the morning, according to the provincial meteorological centre.
The public has been warned to take protective measures when engaging in outdoor activities and those who suffer from respiratory diseases are advised to stay indoors.
The grim alert came ahead of the Paris climate meet where China is expected to make a strong case," Environment Minister Chen Jining said yesterday adding that China has achieved the pollution reduction targets for major pollutants.
Chinese President Xi Jinping is in Paris to attend the inaugural session of the Climate meet stated to be the most crucial in clinching a global climate deal amid strong differences between the developed and developing countries.
China is the top polluter along with the US in green house gases.
Last year, the two reached an agreement to take ambitious action to limit greenhouse gases.
Chen said China has reached the pollution reduction targets for major pollutants outlined in its 12th five-year plan, six months ahead of schedule.
He, however, said a substantial improvement of the environment will only be possible if pollution is reduced by a further 30 to 50 per cent.
Smog has shrouded much of northern China including Beijing, Tianjin, Hebei, Henan, Shandong, Shanxi and Shaanxi.
China has a four-tier colour-coded weather warning system with red representing the most severe weather followed by orange, yellow and blue.
For its part Beijing on Monday issued its highest smog alert of the year, upgrading it from the yellow of the past two days to orange, second only to red.
The municipal weather centre said humidity and a lack of wind would mean the smog will linger for another two days, before a cold front arrives on Wednesday.
On Sunday, the reading for PM 2.5, airborne particles smaller than 2.5 microns in diameter, hit 274 micrograms per cubic meter in most parts of the capital.
Under the orange weather alert mechanism, industrial plants are required to reduce or shut down production; construction sites should stop the transportation of materials and waste while heavy-duty trucks are banned from the roads.
The municipal environment watchdogs have reinforced checks of discharge from coal-fired plants and outdoor barbecues.
Image: Women wearing face masks run to cross a street on a heavy haze day during winter in Beijing. Photographs: Kim Kyung Hoon/Reuters
The image is used for representational purpose only