The rating system requires more transparency and better communication because it lies to employees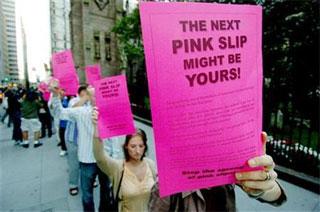 Standardised responses of companies when they are issuing the pink slip aren't funny, especially if you are at the receiving end. Sample this: A few years back, when the two senior employees (CEO and COO) quit a financial firm, the corporate communications' response to a media query was: 'individuals whose performances were not in line with the company's parameters quit'.
Though such responses may not change the fortunes of very senior employees, it can hurt middle or lower-rung employee morale and reduce their employability. Many employees, in recent times, would question the meaning of the ranking 'meets expectations' category or C- grade who, according to a tape of an alleged exit interview, are being laid off by India's largest information technology company.
The only way 'meets expectations' will be reduced to 'needs improvement' or worse, if the company has changed its employee-rating parameters and is planning to do so in the future. Otherwise, the company could simply be wanting to cut costs.
In both the circumstances, better communication and transparency is a must. Once the employee gets a 'meets expectations', he/she needs to be immediately warned that since the company is looking at improved efficiencies, he/she is being given another one or two quarters to improve or find a job. Especially, if this employee has spent a few years in the company, there needs to be adequate warning.
In the second situation, the employee should be given adequate compensation. A good example is of a news television network, when closing down one of its units, gave very innovative and aggressive schemes that ensured that employees weren't hurt financially or emotionally.
It's not that the situation is easy for the human resource (HR) either. For one, they are given an X amount that has to be distributed among employees, as pay for performance or promotion for performance are the key tools for keeping employee morale up. But given that there is a limitation on the amount that can be distributed or promotions that can be given out, the rankings suffer.
The bell curve – far exceeds expectation, exceeds expectation, meets expectations, below expectation or far below expectation (or any other nomenclature) – is almost pre-defined by other considerations wherein only so many employees can be given pay, promotion or both.
The problem goes deeper. At the beginning of the year, employees are given key performance parameters which are pre-defined by the company. Once they have been force-fed the parameters and happen to meet them (even though they have not exceeded or far exceeded it), there is bound to be a dispute when they are handed out pink slips.
"No one wants to admit that the company has changed efficiency parameters (especially after force-feeding the parameters to the employees at the beginning of the year) or is into cost cutting to improve profitability," says a HR manager. The result is friction that can be avoided.