Infosys' first non-founder CEO had been granted 232,329 RSUs at Rs 5 a unit.
Ayan Pramanik reports from Bengaluru.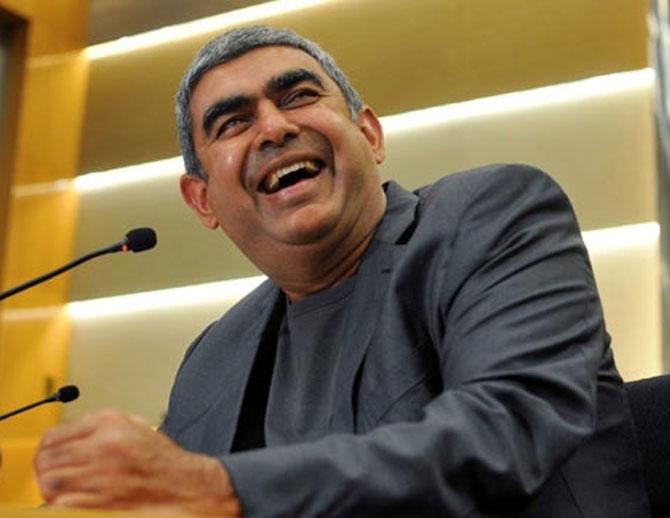 Former Infosys chief executive officer Vishal Sikka 'exercised' about a third of the restricted stock units (RSUs) granted to him in the weeks before quitting the company.
Sikka exercised 70,772 RSUs between June 22 and August 21, and the last of the three exercises happened three days after he announced his resignation as CEO on August 18, according to the company's disclosures to shareholders in a postal ballot on Friday night.
The value of the exercised RSUs is Rs 6.51 crore (Rs 65.1 million/about $1 million), according to the share value of Infosys on September 1.
Sikka, Infosys' first non-founder CEO, had been granted 232,329 RSUs at Rs 5 a unit over two years since he joined the company in August 2014.
Of this, he had exercised 10,824 shares in the second year, according to the disclosures.
Sikka resigned last month after a prolonged public spat between the Infosys board and its founders, alleging that personal attacks on him had distracted his focus on running India's second largest software exporter.
The former SAP executive had positioned Infosys as a software plus services company, bringing in more automation and artificial intelligence in delivering services to clients such as HSBC Bank and Microsoft.
But the acquisition of Panaya, an Israeli technology firm, for $200 million, caused a rift in the company that led to the exit of Rajiv Bansal, the then chief financial officer.
A huge severance pay to Bansal did not go down well with its founders who raised concerns about corporate governance and disclosure norms at the firm.
Sikka's exit and the subsequent fallout between Infosys co-founder N R Narayana Murthy and its then chairman R Seshasayee saw investors recalling co-founder Nandan Nilekani to stem the crisis.
Nilekani took charge as non-executive chairman, leading Seshasayee and two board members -- Jeffrey Lehman and John Etchemendy -- to quit the company.