Indian born Shashank Samant has been appointed chief executive officer of GlobalLogic, a leading software R&D services company. Samant replaced Peter Harrison who now will serve as a vice chairman on the board.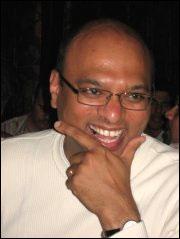 Backed by Sequoia Capital, Goldman Sachs, NEA, Draper Atlantic/New Atlantic Ventures, and West Bridge Capital, GlobalLogic is headquartered in the US and has offices in Argentina, Chile, China, Germany, India, Israel, Ukraine and the United Kingdom.
"Indeed the announcement was a big surprise for me. It's a challenging position, as now on you have nowhere to point the finger. But I am prepared for that," Samant who joined GlobalLogic just 4 years ago told Rediff.com.
Samant said he has been into R&D for the past 24 years and before joining GlobalLogic, he was president at Ness Technologies and had worked at Hewlett-Packard lab in India and also has worked at IBM labs. At Citicorp, Samant created an offshore development centre and fostered its FlexCube Banking product.
"Until today I sit down in lab and work on innovations," Samant said, "We work with the clients where technology is at the core and not the context." 
"Guys we need to focus. Sharp focus. If you lose focus you get lost," said Samant in his message to the company employees.
His mantra for the company is connect, collaborate and innovate. If you connect people internally or externally both then they start collaborating and innovation happens. 
Samant reiterated that he keeps himself focused on innovation. There are many BPO companies but very few technology based R&D companies.
The four industries he is planning to focus on for the next three years are communications, medical technology, commerce and media and infrastructure (business tech).
Sharing his opinion on the recent technology trends in silicon valley Samant said this is for the first time that the valley could see all various technologies coming under one wave - mobility, cloud, security, analytics all those happening in parallel. Now every big company talks about working on these tracks. 
"It's a perfect storm," acknowledged Samant and GlobalLogic, focuses on apps that could meet the demand of Android, Apple and Microsoft is an upcoming market.
The company has been focusing on electronic and medical devices like pacemakers and devices for diabetes. "We also work in the media side. Wherever technology hits, we are there," stated Samant.
Answering on what worries him most now that he will be the CEO, Samant said, "I worry to hire smart engineers and connect them with right tools."
He added, "Even today when you try to hire higher end worker in terms of architecture, in term of design pieces, USA has the disproportional share. One of the reasons is still universities and industries collaborate very well here."
On the company's innovation in design and look of the devices, which GlobalLogic focusses on, Samant said the revolution has been started by Apple, who put design in the forefront, creating competition in the market. "People want the look and feel," noted Samant.
Apple since 2005 has changed the way market thinks.They created three ideas –trendy, simple to use and customer is king. He said the same trend goes in medical devices it should look trendy.
On the future acquisition side, GlobalLogic has acquired seven companies until now and it will continue said Samant. The company has been growing in terms of revenue, "So I am not much worried but my focus is to more on R&D innovation,because that is the area we are known for and which we passionately love.We want to focus in areas that are disruptive in technology and have to connect globally," stated the newly appointed CEO.
Talking about Indian consumer market, Samant said, "India consumers are as savvy as the North American consumers.Their demand of devices are no different from what silicon valley customers ask for. Often time they do that because many are IT engineers and new generation wants that. But what lacks so far is funding, though many venture capital firms have started investing in India.
He said Silicon Valley had the benefit of being formed 40 years back. India's Silicon Valley (Bangalore) was formed 15 years ago. But the interesting thing is within 15 years Bangalore has more engineers than Silicon Valley.
"My submission is if you take any company in the valley, they have office in Bangalore and Hyderabad. My belief is Indian market is definitely there, engineers are there. I think we need to bring Indian universities and funding part together to support it. I do not say it is not happening, but it is not happening to the proposition of the valley or proportion to Israel.
He said Israel was exactly like India 15 years back, today Israel is the hot bread of technology creation and innovation. Most of the new companies in security and mobility have come from Israel.
"To create something like the Valley will take time. Look India has beautiful universities but lacks research," lamented Samant. He added, venture capitalist and universities in India seek to connect with the industries. The connection between industries with academia lacks as compared to Israel or the US.