India's largest pharmaceutical company in terms of market capitalisation, Sun Pharmaceutical Industries Limited (SPIL), has got approval from its shareholders for a spin-off and transfer of its domestic formulation business to its wholly-owned subsidiary, Sun Pharma Laboratories Limited (SPLL).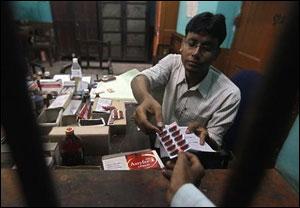 In a meeting convened on January 25, the company's equity shareholders and secured and unsecured creditors gave their approval to the demerger of the company's Rs 300 crore (Rs 3 billion) domestic formulation business to SPLL with a majority vote.
The meeting had been ordered by the Gujarat high court after the Rs 8,000 crore (Rs 80 billion) SPIL approached it in December last year for approval of the proposed spin-off under Section 391 to 394 of the Companies Act.
The report of the January 25 meeting was placed before the high court last week.
Judge R M Chhaya issued a notice to the central government through the regional director, north-western region, ministry of corporate affairs.
The director has been asked to give his comments on the scheme proposed by SPIL. Further hearing in the matter is scheduled for March 15.
As per audited results on March 31, 2012, the total assets of SPLL were approximately to the tune of Rs 9,370 crore (Rs 93.7 billion) vis a vis its total liabilities of approximately Rs 1,260 crore (Rs 12.6 billion). It had built up reserves of more than Rs 8,005 crore (Rs 80.05 billion). Hence, the net worth of the company was more than Rs 8,067 crore (Rs 80.67 billion).
The income from operations of SPIL was more than Rs 4,358 crore (Rs 43.58 billion) and the net profit after tax was more than Rs 1,927 crore (Rs 19.27 billion), which indicate the strong financial position of the company, the court had observed. Therefore, even after considering the proposal of spin off and transfer of the domestic formulation undertaking, the net worth of the company (SPIL) shall continue to be more than Rs 7,747 crore (Rs 77.47 billion).
SPIL has offered a number of assurances to the court regarding the spin-off and transfer.
It has assured the court that in light of the financial strength of the company, the rights and interests of SPIL's secured creditors and unsecured creditors would not be affected in any manner as a result of the proposed spin-off.
SPIL has also assured that the liabilities of the domestic formulation business as on close of business on March 31, 2012, would not be transferred and would continue as obligation of the parent company (SPIL).
On its part, SPIL has stated that it shall continue its business operations, albeit for business other than domestic formulation activities.