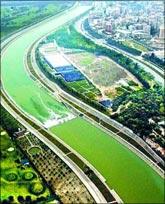 Tata Realty and Infrastructure Ltd, a 100 per cent subsidiary of Tata Sons Ltd, will invest Rs 3,500 crore (Rs 35 billion) in setting up an information technology Special Economic Zone at Taramani, Chennai. The project will have both commercial and residential projects.
The project is named Ramanujan IT City, in memory of the legendary mathematician, Srinivasa Ramanujan. It will come up on 26 acres off the Old Mahabalipuram Road. This project also envisages development of a premium residential community called 'Cambridge Greens', to be ready for occupancy by mid-2011.
It is being promoted by TRIL Infopark Ltd, a joint venture between Tata Realty and Infrastructure Ltd, state-run Tamil Nadu Industrial Development Corporation & Indian Hotels Company Ltd.
There will also be a premium retail mall and entertainment centre, besides an international convention venue.
Cambridge Greens will comprise 150 'super luxury' apartments, each between 2,000 and 3,000 sq ft.
Sanjay Ubale, managing director and chief executive officer of TRIL, said: "Chennai is fast emerging as a hub of technological advances, especially in IT. Ramanujan IT City aims to be the most sought property in the vicinity, with excellent connectivity, concentration on social infrastructure and contemporary architectural design. The residential complex, Cambridge Greens, will have walk-to-work convenience with the adjoining IT SEZ and retail mall, comprising leading international brands. It is our endeavour to offer world-class amenities and services catering to upwardly mobile people."