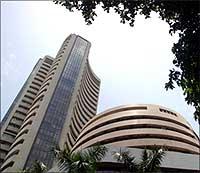 The Diwali spirit set in with gusto, catapulting the Sensex to an all-time closing high and the Nifty just shy of the coveted mark on the last day of Samvat 2066.
The credit for the day's stupendous rise goes to the slew of positive news on the global and domestic fronts.
The BSE benchmark, which had closed at a high of 20,878 on January 1, 2008, ended higher by 427 points or 2.1% at 20893 and the Nifty ended up 121 points at 6281.
Heavyweights such as M&M, Tata Motors and SBI touched record highs, while L&T, ICICI Bank and Hindalco Industries scaled 52-week highs.
There was underperformance on the broader market front though; the midcap index ended at 8608, higher by 76 points and the smallcap index ended at 10879, up 70 points.
While the indices got off to a flier this morning, thanks to the Fed's decision to inject fresh stimulus into the struggling US economy, the outstanding debut by Coal India further added to the cheer around.
Wall Street had ended a volatile session modestly higher overnight after the Federal Reserve announced a plan to buy $600 billion in treasuries to breathe new life into the struggling economy; the Dow gained 26 points and Nasdaq added six points overnight.
And Coal India had a cracker of a listing to end Day 1 at Rs 342, a 40% premium over its issue price of Rs 245 per share.
In the process, CIL emerged as the fourth largest firm with a market capitalization of Rs 216,240 crore ($ 47.33 billion).
The stock hit high of Rs 345 during the day.
The stock had debuted at a premium of 17.45% at Rs 287.75. CIL is a Navratna public sector undertaking under the Ministry of Coal and is the largest raw coal producing company and coal reserve holder in the world.
Meanwhile, food inflation slipped for the third-straight week to 12.8% for the week ended October 23, government data revealed on Thursday. The prices of vegetables, especially potato and onion, softened due to improved supplies.
"Nifty short term trend is positive till the time it sustains above 5950 levels. The reversal of the short term positive trend could be seen below these levels", Anandrathi
said in a research report.
"In the near term, risk assets in general and EM equities including India in particular are likely to benefit from ample global liquidity and associated high risk appetite. Moreover, capital inflows will support India's widening current account deficit.
"However, surge in capital inflows beyond the economy's absorptive capacity will create fresh monetary policy challenges such as upward pressure on INR, which hurts the export sector.
"Second, the Fed action is likely to boost global commodity prices, which in turn may jeopardize the softening trend in domestic inflation.
"Third, excess capital inflows trigger sharp upward movement in asset prices in a short span, thereby increasing the risk of financial instability in the economy", says Edelweiss Reseach.
The day clearly belonged to the banking and metal pack. SBI touched a new high of Rs 3423, higher by 4.6%, to emerge as the top gainer on the BSE and ICICI Bank ended at Rs 1261, up 1.9%.
In the metal pack, Hindalco Industries ended at Rs 226, higher by 3.5%, Sterlite ended at Rs 179. higher by 2.1% and Tata Steel ended at Rs 621, up 1.9%.
Tata Motors ended at Rs 1231, higher by 3.1% and L&T ended at Rs 2172, higher by 1.2%.
And index bellweather RIL raced closer to its yearly high to end at Rs 1105, up 3.7%.
The successful listing of Coal India had a rub-off effect on other mining companies, with the likes of Sesa Goa, NMDC, Gujarat NRE Coke and Ashapura Minechem gaining between 2% and 5% respectively.
On the other hand, Hero Honda shed 1.1% at Rs 1843 and Bharti Airtel lost 0.6% at Rs 326.
The market breadth was strong. Out of 3077 stocks traded on the BSE, there were 1548 advancing stocks as against 1376 declines.
There will be a special one hour Muhurat trading session between 6pm and 7pm on Friday's Diwali day to mark the beginning of Samavat 2067.