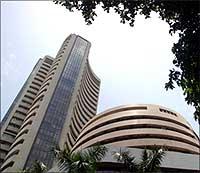 Markets declined for the second consecutive session and ended near the day's low due to selling pressure in frontline heavyweights Reliance Industries, HDFC, ITC and Tata Motors.

The S&P CNX opened on a firm note at 5,566 and touched a high of 5605 in the opening trade led by short covering and rally in Reliance Industries ahead of its 37th AGM (Annual General Meeting).

But as the AGM turned out into a damp squid, the Nifty surrendered its morning gains and touched a low of 5,507, toeing the line of the Asian counterparts, which were weak since morning.

The S&P CNX Nifty ended the day at 5517, down 34 points and the benchmark Sensex closed at 18,377, down 118 points.
Nifty was unable to cross the 50 Daily Moving Average of 5640 and market analysts said that sentiment continued to remain weak on account of further investigations in the telecom probe.
Reliance Industries dragged the Sensex down by 33 points. The stock declined 1.5% to Rs 936 due to absence of any major announcement by the Chairman Mukesh Ambani at the AGM which disappointed investors. Other heavyweights HDFC, ITC and Tata Motors brought the Sensex down by additional 57 points.
Markets across Asia were reeling under pressure ahead of the US non-farm payrolls data for May. Fresh signs in the past week that US economy has hit a soft patch have led economists to expect a poor job's data.
Japan's Nikkei Stock Average gave up early gains and ended at 0.7% at 9,492.21, dragged by exporters due to strengthening Yen.
Hong Kong's Hang Seng also lost ground, ending down 0.5, hit by Chinese banking shares on concerns of monetary tightening in China over the three day weekend as Beijing has previously raised rates during the holiday weekend. However, China's Shanghai Composite index rose 0.5%.
Back in India stocks which were hit by the telecom probe news yesterday rebounded.
The Sun TV network was up 4% to Rs 283 and Spicejet rallied 2.2% after the owner Kalanithi Maran denied involvement in allegations of rigging in the sale of the telecom licenses.
Also Reliance ADAG (Anil Dhirubhai Ambani Group) stocks bounced back after a plea was dismissed by a Delhi Court for making Anil Ambani, Chairman of Reliance ADAG group, one of the accused in the 2G spectrum scam case. Reliance Communication gained 4% to Rs 93 and Reliance Infrastructure added 0.9% to Rs 557.
BSE Oil & Gas index was leading the losses, down 1.3% ahead of the diesel and natural gas price expected next week. Indian Oil Corporation slipped 2.2%, Hindustan Petroleum was off 2% and GAIL dropped 1.7%.
Metal shares also lost sheen, the BSE Metal index was down 1.1%. Top losers were Hindalco, down 2.6%, Welcorp declined 2.5% and Steel Authority of India was off 2.3%.
BSE Consumer Durabels, a defensive sector witnessed some buying interest; the index was up 0.8%. Gitanjali Gems climbed 3.7%, Rajesh Exports was up 2.1% and VIP Industries surged 0.4%.
Top losers on the Sensex were HDFC, down 3%, Tata Motors fell 2.3% and, JP Associates lost 2.5%.
Prominent gainers were Larsen & Toubro, up 2.2%, Mahindra & Mahindra gained 1% and Maruti Suzuki advanced 0.8%.
From the broader markets, the midcap and the smallcap index ended flat, up 0.3% and 0.05%.
The market breadth was negative. Out of 2932 stocks traded, 1306 stocks advanced while 1485 stocks declined.