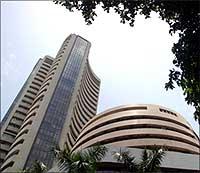 The markets began the day on a flat note amid slightly negative global cues. Trading activity was mostly subdued ahead of the RBI policy review this morning.


However, post policy announcement the markets as a knee jerk reaction first slipped, but bounced back on a much stronger note only to slip back at close.


The Reserve Bank in its maiden mid-quarterly policy review on Thursday hiked repo rate by 25 bps and reverse repo by 50 bps. Economists, see today's action as a signal to end the tightening cycle.


Indranil Sengupta, chief economist, Bank of America-Merrill Lynch talking to smartinvestor.in said, by its action the RBI has signaled an end to the tightening cycle.


However, he adds that we may see another 25 bps hike in reverse repo in the November review.


Meanwhile, the finance minister Pranab Mukherjee has empahised confidence in the growth story. He said, that economy should grow at 8.5 this financial year and 9% for FY12.


The Sensex first dropped to a low of 19,389, but recovered and rebounded into green. Renewed buying interest in banking and realty stocks saw the index rally to a high of 19,636 -- up nearly 250 points from the day's low.


However, profit taking at higher levels saw the index slip back into red. In fact, the index tumbled all the way to a low of 19,383 -- down over 250 points from the day's high.


The BSE benchmark index, eventually, ended with a loss of 85 points at 19,417. The NSE Nifty was down 32 points at 5829. In the process, the markets on Thursday broke its seven-day wining streak wherein the indices had gained 7% each.

The BSE Mid-cap index declined 78 points to 7,990, and the Small-cap index shed 42 points at 10,144.
The market breadth was largely in favour of the bears - out of 3,087 stocks traded 1,855 declined and 1,087 advanced on Thursday.

Apart from the IT stocks which were down significantly the rate sensitives were in action today. In particular, the banking and reatly stocks rebounded sharply in noon trades.

The BSE Realty index was up over 1% at 3,684, and the Bankex added 0.6% to 13,651. The IT index, however, dropped 2.3% to 5,813, and the Metal index shed 1.5% at 16,209.

Despite paring some gains towards the end, DFL ended with a gain of 2.7% at Rs 350. Unitech, HDIL and Peninsula Land were the other major gainers. On the other hand, Ackruti City, Orbit Corporation and Parsvnath Developers declined 1% each.

Welcoming the monetary policy Pradeep Jain, chairman, Parsvnath Developers said, "RBI has acted very cautiously while increasing the repo and reverse repo rates by 25 bps and 50 bps, respectively keeping in mind its effect on the productive sector.
"It will certainly boost government's effort in curbing inflationary pressure as it will reduce the flow of money in market and will check common man's purchasing power."

"Though, it may have an effect on real estate industry but up to a certain extent. If the banks take the RBI's step as a precautionary measure against inflation and act accordingly, I believe the upcoming festive season will not disappoint the developers", he added.

Among financials, housing major HDFC moved up 1.4% to Rs 691. Indusind Bank rallied nearly 3% to Rs 248. Bank of Baroda, SBI, Punjab National Bank, Axis Bank and HDFC Bank also ended with decent gains.

Federal Bank, however, plunged 3% to Rs 367. Bank of India, IDBI Bank, Canara Bank and Kotak Mahindra Bank were the other prominent losers.

IT stocks witnessed profit taking today, Infosys down nearly 3% to Rs 2,968. It was followed by Patni Computer, Mphasis, Tech Mahindra, Oracle Financial Services and TCS down 2% each.

In the broader markets, Resurgere Mines up 20%, Cosmo Films,Delta Corporation up 11%, Bilcare and Shristi Infrastructure up 10% each were the major gainers from the small-cap space.

HT Media down 6%, Shree Global Tradefin and Sigrun Holdings down nearly 5% each, Dish TV India, Jagran Prakashan and Persistent Systems were the prominent losers from the mid-cap space.