Endorsement by celebrities such as Aishwarya Rai, Hrithik Roshan among others and increasing awareness among customers are helping stem cell firms grow the brand footprint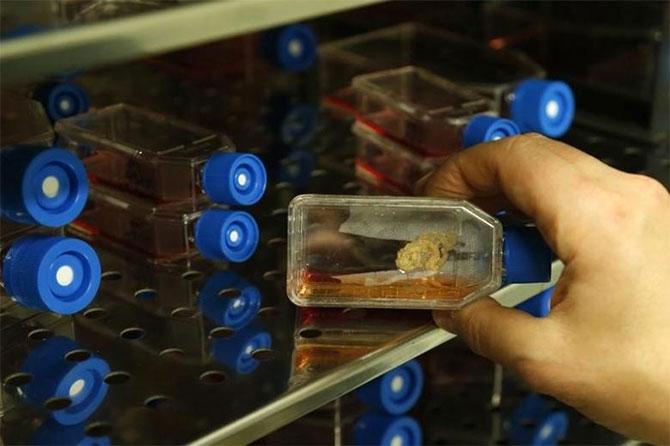 Image: A piece of a three-dimensional bone structure obtained from the stem cells of a patient at Brussels' Saint Luc Hospital. Photograph: Yves Herman/Reuters

It took nearly five years for Chennai-based LifeCell, one of the country's first umbilical cord stem cell banks that set up shop in 2004, to acquire 400 units (for its bank of umbilical cords) a month.
A complete overhaul of the pricing, brand and sales strategy thereafter, endorsement by celebrities such as Aishwarya Rai, Hrithik Roshan among others and increasing awareness among customers has pushed the number up over ten times today to 5,000 units a month and is helping the company chalk up a bigger brand footprint.
It has also spawned a host of players such as Cryoviva, Transcell, Cordlife India, Million Cells, and Cryovault, besides expanding the overall market for companies engaged in a variety of allied medical services.
"We have reached a stage where our brand and the concept has reached far, now we need to consolidate and the focus will be on digital space, where every two months we will have new campaigns," says Mayur Abhaya, MD and CEO of LifeCell.
He believes that the Indian market is ripe for services such as these; penetration is 0.5 per cent in India, compared to five per cent in US and 25 per cent in Singapore, he explains.
Rohit MA, co-founder and managing director of Cloudnine Hospitals (a mother and baby care speciality hospital chain) that partners with LifeCell says that things changed when the industry began going directly to the customer and invested heavily in awareness building.
This is similar to what medical services companies such as Thyrocare have done; shifting the purchase decision directly to the user helps because it lets the companies talk to the end-customer without doctors in the middle.
While this has ethical implications for the industry and the medical practice, companies say they are careful to walk within the lines, educating customers and doctors about the process.
Further boost to the stem cell business came about with a drop in prices. In 2013, LifeCell says it decided to work on the pricing formula as it was clear that though customers were keen, the expense was prohibitive. The charges at the time were: Rs 75,000 for 21 years.
This was reduced to Rs 19,990 for the first year and Rs 4,000 as annual maintenance. Abhaya says that the customer bank grew by nearly 30 per cent between 2013 and 2015.
The company also spent heavily on ground engagements and advertising to promote stem cell and the brand LifeCell over the period. It partnered with doctor associations to build awareness about the practice.
Right through, the aim was to build the brand as a pregnancy service company and not just a storage bank.
It helped when celebrities Aishwarya Rai, Hrithik Roshan and Lisa Ray came on board. They were all customers first and then turned into service endorsers, the company says.
Following the celebrity-led campaigns, the company grew 3X, says Abhaya. Most recently, A R Rahman lent his voice for an awareness song for Jeevan Stem Cell, another player in the industry.
What has worked, industry experts point out, is a combination of factors. Having known faces as endorsers gave the practice credibility. By taking the word directly to the customer, the company was forced to simplify its messaging.
Customers began explaining the process to potential customers which increased buy-in into the service. The companies spent on consumer education says Rohit M A whose hospital Cloudnine owns a five-year old stem cell banking service under the brand Cryonine, which partners with LifeCell.
The brand building strategy involved talking to pregnant women through counselling, activities and hospital programmes says Abhaya. The company worked with several gynaecologists' societies too.
The turning point was when the doctors reported that they had customers come to them asking about the stem cell facility.
This was proof that the strategy to go directly to the customer was working. LifeCell says it reached out to over 10,000 gynaecologists as part of the programme. While this definitely helped build opinion in favour of the practice, conversion rates soared only after new pricing schemes were offered, Abhaya says.
More recently, companies have also taken to digital marketing, using targeting methods to reach out to couples expecting a child and special neo-natal care services.
"Digital advertising acts as the largest source of leads at present," says Abhaya.
Still, the penetration levels in India are far lower than the rest of the world and Abhaya hopes to change that with a new initiative called community stem cell banking, which allows sharing of preserved umbilical cord stem cells amongst the community of parents.
Lifecell says it has around 60 per cent share of the market in India, with around 200,000 units already stored and an additional 5,000 being added to the bank every month.
There are close to 15 stem cell companies including Jeevan Stem Cell, Cryoviva, Cordlife India, Million Cells, and Cryovault.