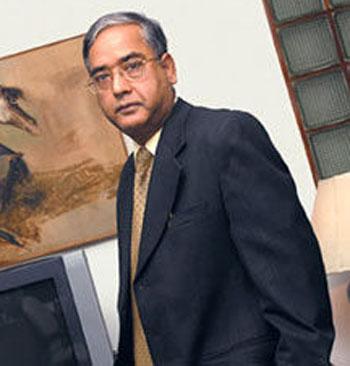 The chairman's post will soon fall vacant, but that's not the only one that needs to be filled.
As the Street steps into a new year, it faces numerous uncertainties.
In such a not so benign environment, the market regulator -- which needs to be at its strongest and most watchful -- finds itself in a bit of a limbo as it prepares for a major transition.
Its longstanding chairman, U K Sinha, has less than two months at the helm.
That is not all. The Securities and Exchange Board of India is now operating with two wholetime members, one of whom had joined less than two months earlier. The process for selection of the third wholetime member and the new chairman are currently on.
A couple of executive directors' cabins are also vacant. EDs are crucial cogs in the Sebi machinery. Functional heads, they act as a bridge between the board, which lays down the vision, and the staff who put this vision into action.
The post comes at a yearly remuneration package of Rs 36-39 lakh and is an important career avenue for in-house talent.
Given the challenges and exposure, it has also attracted a good amount of talent from outside. Some of them even become newsmakers. Like:
Sandeep Parekh, who became ED-legal during the tenure of chairman M Damodaran, is an oft-quoted securities lawyer.
K N Vaidyanathan, an IIM-A alumnus, made waves for the steps he took to make mutual funds more investor-friendly.
Vaidy's colleague, J N Gupta, has made a name as a corporate governance activist.
Both Vaidy and Gupta were brought in during the chairmanship of C B Bhave, who himself had cut his teeth as an ED under Sebi's first chairman, G V Ramakrishna.
Sinha's tenure saw Gyan Bhushan, a 1993-batch Indian Economic Service officer, then an economic adviser in the finance ministry, first deputed here as a chief general manager. A year later, he was selected as ED.
The second outside hire was R K Padmanabhan, an Indian Police Service officer, who looked after the investigation department. He was also handling the vigilance section and this became the subject of a complaint to the Central Bureau of Investigation. This led to Gyan Bhushan taking over the vigilance role in the later part of his tenure.
At present, there are six EDs.
S V Murli Dhar Rao handles market regulation and surveillance.
P K Nagpal handles corporate finance.
S Ravindran is in charge of investigation and intermediaries supervision.
Ananta Barua looks after investment management.
J Ranganayakulu is ED-legal.
S K Mohanty handles the newly integrated commodities division.
The posts vacated by Bhushan and Padmanabhan need replacements. Sebi has issued advertisements; a former ED is also said to have applied.
The deadline for applications ended on November 25. There are murmurs in the ranks about these end-of-tenure selections.
The grapevine has it that it's a done deal and there are 'water-cooler chats' about the candidates who are associated with those making these selections, and apparent conflict of interests.
The Sebi ranks are almost always unhappy at lateral hires at the top, beside criticism that such people are too loyal to the boss.
Questions are also being asked on whether the new chairman shouldn't be allowed the freedom to choose his own people for these key posts.
Since the appointments are for a term of three years, the new chairman might have to live with the choices of his predecessor for his entire term.
There is a good chance that he or she might find them useful.
And, a good chance of this not being so.
Image: Sebi's long-standing chairman, U K Sinha.