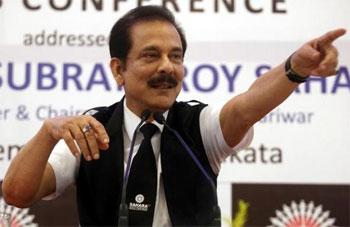 In a new twist to the high profile Sebi-Sahara case, the Indian capital markets regulator has approached a US court with a $12-million claim on proceeds from sale of a corporate jet owned by a Sahara Group firm.
The court has rejected the demand for now, saying that Sebi could not "properly file a claim prior to the Bar Date and in accordance with the terms of the court's order".
The Indianapolis court is looking into disbursement of money collected from the aircraft sale that was triggered by a litigation. It ruled however that the court-appointed receiver can initiate wire transfers from the escrow account to Sebi-Sahara Refund Account after being satisfied with the validity of the demands.
This bank account was created after a Supreme Court order in August 2012 for refund to bondholders of two Sahara group firms, which were asked to submit over Rs 24,000 crore (Rs 240 billion) with the Securities and Exchange Board of India (Sebi) for making repayments to investors.
While Sahara claims to have already made over 95 per cent of repayments directly, this has been disputed by Sebi and the group chief Subrata Roy has been in jail for more than a year.
The present case in the US relates to an Airbus Corporate Jet, a green aircraft purchased by Sahara group's Hospitality Business Limited (HBL) from Airbus SA in December 2012.
HBL then entered into a Cabin Completion Agreement (CCA) with US-based Comlux America for USD 31 million. Comlux is a leading player in providing aircraft management and design services for VIP customers.
However, due to liquidity issues faced by Sahara, after being asked to deposit funds with Sebi, the payment timelines could not be met and delays started to occur, due to which Comlux could not progress with the cabin work of the aircraft.
As a result, HBL was asked to pay damages worth an estimated $6 million to Comlux. While HBL paid $3.795 million, the balance amount remained outstanding.
Later in June 2014, Comlux's attorneys filed a case in the Indianapolis court and sought sale of the aircraft.
Subsequent to this, Eagle Creek Aviation Services was appointed for sale of the aircraft. It was sold to Hua Yuan International Development Co Ltd in December 2014.
The sale proceeds were kept in an escrow account, from which payments were made including towards Comulux's damage and certain fees, while claims were invited from other parties under till a 'Bar Date' of March 1, 2015.