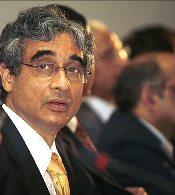 The State Bank of India on Friday launched a defence salary package for the Indian Air Force with an array of concessional services such as zero balance accounts, interest rate concessions on loans, preferential allotment of lockers and free mobile banking.
"I recommit that SBI would serve the very best we can," SBI chairman O P Bhatt said at the launch of the product. The package includes free drafts and free cheque books and provides for free funds transfers to any of the State Bank Group's network of almost 16,000 branches or any other bank in India, besides free ATM cards and other features.
SBI further said that it plans to add 5,000 ATMs to its existing count of 20,000, which will benefit more than one lakh Air Force personnel, as the bank intends to establish a large number of ATMs to serve Air Force formations.
The package enables Air Force personnel to open zero balance accounts with an unique lifetime account number, valid even after retirement, and offers free mobile banking services, preferential allotment of lockers and interest rate concessions on home, car and personal loans, among others.
"The bank's network of business correspondents appointed in unbanked rural areas will also be available for the basic banking requirement of the Air Force personnel and their families," SBI said.
Speaking on the occasion, Air Chief Marshal P V Naik said, "I hope SBI would meet the expectations of defence personnel," adding that he would urge the SBI chairman to translate it into a reality at the earliest. A similar package was announced for Army and Navy personnel earlier.