Rajdeep Sardesai, editor-in-chief, CNN-IBN, and wife Sagarika Ghose, deputy editor, IBN18, quit after nine years.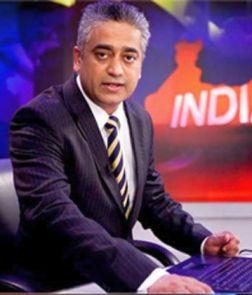 The churn continues at Network18 Group, in the middle of a takeover by Reliance Industries Ltd (RIL).
Sardesai tweeted, "Some of you ask: What next? All I can say, watch this space: Phir subah hogi (there will be sunrise again). Much to do." Reports said Sardesai will work on a book to be published by Penguin Books. Ghose may join a media group with interests across print and television.
The Twitterati has speculated the couple's exit through the general elections' season, connecting it to the RIL takeover and political pressures.
The couple follow a long list of journalists to quit the group since the country's largest firm tightened its grip over the Raghav Bahl-promoted media group.
Apart from thanking his colleagues and other pleasantaries, Sardesai hinted at issues of 'editorial independence' in his mail to colleagues. "Editorial independence and integrity have been articles of faith in 26 years in journalism and maybe I am too old now to change!"
"This is one of the toughest letters to write. After nine wonderful years at IBN 18, it's time to say goodbye. I must confess it's not easy to leave a baby that one has helped create/build/grow and to leave such great colleagues. But I guess certain things in life are written in the stars."
Ghose preferred to quote John Tusa, the former director-general of BBC World Service: "Journalists cannot become the outriders of authority...but the freedom we have is the freedom to be responsible."
A free fearless press is the infrastructure of democracy, without it the term "citizenship" is diminished, she added.
Son of 60s' Test cricketer Dilip Sardesai, Rajdeep started his career in The Times of India as trainee assistant editor, a position specially created for him, old-timers there said.
He struck gold on television and became part of the first crop of star reporters/anchors of satellite TV era when Prannoy Roy-led New Delhi Television was producing content for Star News.
He moved with Roy, when NDTV was launched and later broke away to launch CNN-IBN, when Network 18 then predominantly a business news player ventured into the general news space.
Like he often ended the day on twitter, Rajdeep closed his good bye mail with a hindi song which he believed should be a life philosophy: Aadmi musafir hai, aata hai aur jaata hai, aate jaate raste pe apne yaadein chhod jaata hai..."
Please click here for the Complete Coverage of Budget 2014 -15