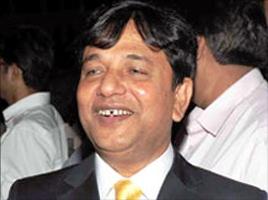 Saradha group chairman Sudipta Sen, prime accused in the multi-crore chitfund scam, on Wednesday prayed before the Calcutta High Court that a special court be formed to try all cases filed against him, claiming he was ill and overstressed since his arrest in April this year.

Appearing before Justice A K Banerjee and Justice D Basak, Sen's counsel claimed the government was yet to form a special court, as suggested by the High Court in its earlier order, for hearing all cases with regard to the Saradha scam, which runs into thousands of crores of rupees.

The counsel sought direction to the state government to form a special court to hear all cases pending before different courts in West Bengal in connection with the scam.

The counsel claimed Sen had lost 30 kgs since his incarceration in April, when he was arrested from a hotel at Sonmarg in Jammu and Kashmir.

A division bench comprising Justice A K Banerjee and Justice M K Chaudhuri on June 20 asked the state government to establish a special court, if necessary, in consultation with the High Court administration so that all cases relating to the Saradha group could be heard by one special court having powers to take cognisance, frame charges and conduct sessions.

It was also claimed that despite there being a special investigation team to probe all cases in this regard, officers from different police stations of the state were grilling Sen.

Claiming Sen was ill and was overstressed, the counsel sought direction that only the SIT investigate cases before different police stations in the state.

Hearing the petitioner, the division bench directed Sen's counsel to file a written application in this regard, following which the pleas would be taken up for hearing.
Image: Sudipta Sen; Photograph, courtesy: Business Standard