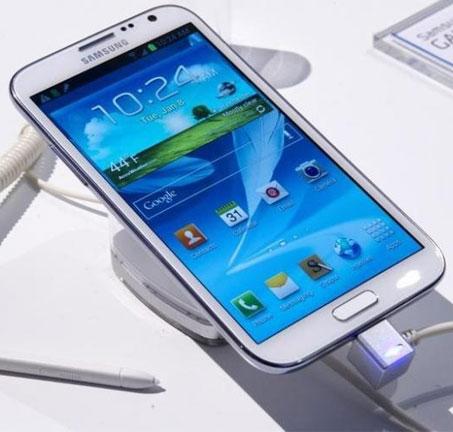 The company will meet DGCA next week and is putting in place a strategy to contain the damage
Samsung, which is meeting the civil aviation regulator next week following the explosion of one of its Note 2 handsets on an Indigo flight on Friday, is putting in place a strategy to contain the damage caused by the episode.
Samsung is facing heat internationally over battery explosions in its flagship Note 7 phablets. Along with foreign aviation regulators, the Directorate General of Civil Aviation (DGCA) had issued a notification earlier asking passengers on flights to keep their Note 7 phones off and not charge them.
Samsung has begun a replacement programme in the US and will relaunch the Note 7 in India and South Korea later this month.
On the Note 2 explosion, the company would ask the DGCA to allow its experts to examine the handset, sources said.
Samsung's Make in India connection
W
ith Rs 40,000-crore revenue and products across the electronics value chain, Samsung India is an important member of the Make in India club
B
esides two plants in Noida, Uttar Pradesh and Sriperumbudur, Tamil Nadu, Samsung is looking for land to set up a third factory to make smartphones and other electronic gadgets
I
t is looking to spend up to a $1 billion on the third plant, products of which could be exported
S
amsung's plan is to convert India into a production and R&D hub in the South Asian region
The DGCA has said it was contemplating banning the use of the entire Note series on flights.
The company may also tap government channels to highlight that such extreme steps without thorough examination might mar the Make in India programme. The initiative of the Narendra Modi government asks global majors to set up manufacturing plants in India.
Jay Y Lee, son of Samsung chairman Lee Kun-Hee, met Modi last week. Lee was in India after being nominated to Samsung's global board and reviewed operations here.
The company is also likely to advance the consumer connect initiative around the time of the Note 7 relaunch in India.
When contacted, a Samsung India spokesperson said consumer safety was its priority and that it was looking into the matter.
Experts said Samsung's reaction to the incident was unprecedented and highlighted the importance the company accorded to India, where it is a clear leader over global rival Apple.
Samsung's worldwide revenue loss this year on account of the Note 7 recall is likely to be $5 billion. But the bigger impact is on sales of its other high-end smartphones.
Almost 7 per cent of the 45-50 million smartphones shipped to India by Samsung in April-June came from its premium portfolio. While the S7 launched in March gave Samsung a much-needed edge, the Note 7 was expected to build on this momentum.