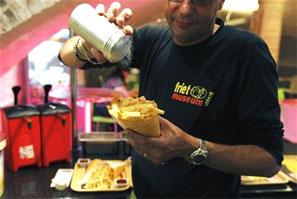 Rumours of acute scarcity of salt triggered panic buying in half a dozen districts of Bihar on Wednesday and Thursday.

According to state government sources, a rumour originated from Madhubani district on Wednesday evening that the supply of salt from Gujarat had been stopped due to the political tussle between Bihar Chief Minister Nitish Kumar and his Gujarat counterpart Narendra Modi. Within a couple of hours, the price of salt skyrocketed to Rs 50-60 from Rs 10 a kg. By Thursday morning, the rumour spread to adjoining districts.

According to reports, people in Madhubani, Sitamarhi, Samastipur, Supaul, Sheohar and Begusarai districts have since bought salt at Rs 50-150 a kg after rumours spread that the salt would be out of the market soon. Such was the panic that in some places, shopkeepers had to call the police.

Though struck by panic at first, the state government soon swung into action. Government officials raided dozens of shops and several godowns on Thursday. Three persons were also arrested for spreading rumours.

"They have been booked under the Essential Commodities Act and were being interrogated by the police," said Food and Civil Supplies Minister Shyam Rajak.

He blamed the Bharatiya Janata Party (BJP) for spreading the rumours and alleged that it was "trying to destabilise the Janata Dal (United) government". He said, "The BJP is a proven master of rumour mongering and the rumour about salt is no exception."
Salt scarcity panic grips Assam
Panic about salt scarcity triggered by rumours in Assam led to it to being sold at even Rs 100 per kg, as Chief Minister Tarun Gogoi said today that there was no scarcity and there was no need of panic.
Following reports about salt scarcity in Bihar which halted supply to Assam, there was panic buying last night and and this morning with buyers jostling with each other to buy salt as much as possible.
Arunchal cracks down those selling salt at exorbitant rates
With reports of salt being sold at exorbitant rates in the open market in Arunachal Pradesh, the authorities today launched a crackdown on unscrupulous traders, while assuring that there was sufficient stock and there was no need to panic.