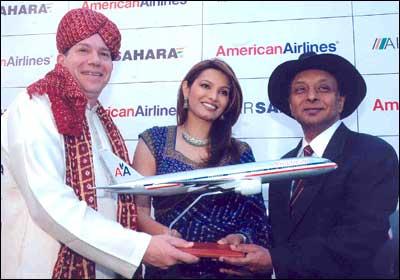 American Airlines, the world's largest  airline, announced the commencement of its maiden direct flight from Delhi to Chicago. For this, American Airlines has entered into a code-share partnership with Air Sahara to offer unmatched connectivity in the United States and India, to passengers of both airlines.
The maiden flight will take off from Delhi at 12:55 p.m. on Thursday.
This marks a new chapter in Indo-US aviation history and will positively impact air-traffic between the two countries, which is currently approximately 2.75 million passengers, growing at 5 per cent per annum.
The airlines organised a special event at Hotel Ashok to celebrate the occasion, where Craig Kreeger, vice president (Europe & Pacific), American Airlines; Ronojoy Dutta, president, Air Sahara, and former Miss World Diana Hayden, came together to wish the very best to both the airlines' crew and other team members.
Through its hub at the O'Hare airport in Chicago, American Airlines will offer unparalleled connectivity to passengers from India, who can connect to 125 cities including Atlanta, Austin, Boston, Buffalo, Cincinnati, Columbus, Detroit, Houston, Indianapolis, Miami, New York, Montreal, Orlando, Philadelphia, Pittsburgh, Raleigh / Durham, Washington and Toronto.
The flight schedule has been finalised so that passengers land at Chicago at 5:20 a.m. (the next day) to enable them to have a productive working day.
The 16-hour direct flight will significantly reduce travel time, from the current average travel time of over 20 hours. To cater to the varied needs of customers, American Airlines will offer a complete choice of three classes: First Class, Business Class and Economy Class.
The code-share contract with Air Sahara will enable American Airlines' customers to make easy connections throughout India using Air Sahara's extensive domestic network of 25 cities and 126 flights.
Speaking on the occasion, Craig Kreeger said, "It is indeed a proud occasion for us to launch our non-stop daily service between the United States and India. American Airlines has identified India as a focus market for its growth plans and will make concerted efforts to ensure that the new service is a success."
"We have received superb response to the introductory fare of Rs 38,000 and the fact that our flights are booking well is an indication of the market's tremendous potential. I wish the best to both the teams working on this route and hope to have many such occasions in the future," Kreeger added.
Commenting on the tie-up Ronojoy Dutta said, "For Air Sahara this is a major step towards achieving recognition as a player in the international scenario. We are also the first private airline to fly across the Atlantic through a code-share agreement with American Airlines. What it means to our customers is that they have seamless connections from major cities in India, to all major cities in the US, through our hub in Delhi and through the American Airlines' hub at Chicago."
(Above) Craig Kreeger, vice president (Europe & Pacific), American Airlines, former Miss World Diana Hayden and Ronojoy Dutta, president, Air Sahara, come together to celebrate the maiden flight of American Airlines from Delhi to Chicago on November 17.
Photograph: Sahara